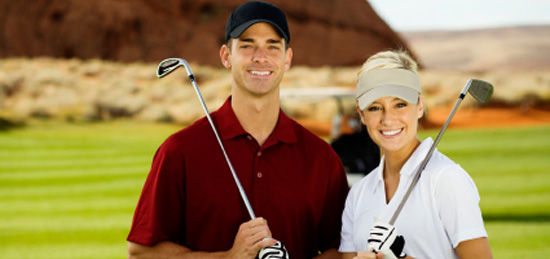 What you wear to a golf course depends a lot on what kind of course you are visiting, what the event is and how you personally like to express your taste in golf attire. There are those who love to express an ironic style by wearing clashing fabrics and brightly-colored plaid pants reminiscent of the gold pants that were in style decades ago. However, there are many other ways to express yourself as a golfer.
The Dress Code

Many golf courses have a specific dress code for their course. The more expensive the golf course is, the more likely they are to have a strict dress code. Most courses, no matter how inexpensive, will require a shirt to be worn. But from there, the codes get stricter. If you have never played at a specific course before, call ahead to find out about what type of clothing is expected. If you are not able to call ahead, avoid wearing shorts and jeans just in case the course has a problem with those items.
If you are playing at a very exclusive golf course, you can be assured that the course will likely not allow jeans and it may not allow t-shirts or shorts. Many upscale golf courses require their players to play in a shirt with a collar and a pair of slacks or a skirt. There are also golf dresses that have started getting some attention from golfers, though these may not be allowed at all golf courses.
Casual Golf Wear
For the most part, golf clothing should be comfortable and casual. A pair of cool, thin slacks or golf shorts and a polo shirt is generally what most people wear to golf in most of the time. Municipal courses often see more people wearing jeans, but jeans can be uncomfortable on hot spring and summer days. Jeans are thick and tend to hold moisture close to the skin. To avoid this discomfort, wear a thinner style of pants or shorts that fit loosely enough not to cling to your legs. Choose classic colors like navy blue, khaki and white to fit in on most courses.
Overall, most golfers tend toward a preppy look when playing. If you are playing in chilly weather, consider a beige or navy sweater worn over a white button-up shirt. A sweater vest may also be worn for a classic golfer look.
Shoes
There are several kinds of golf shoes available, but one type is often not allowed on golf courses. Golf shoes were once expected to have metal spikes on the bottom for traction, but it was found that these were extremely hard on the course itself. Most courses no longer allow this type of golf shoe to be worn. Most new golf shoes don't have these because they are so frowned on, so always wear the newer styles of golf shoes. These shoes have rough bottoms to add to a player's stability, but they won't tear up the green the way that spikes will.