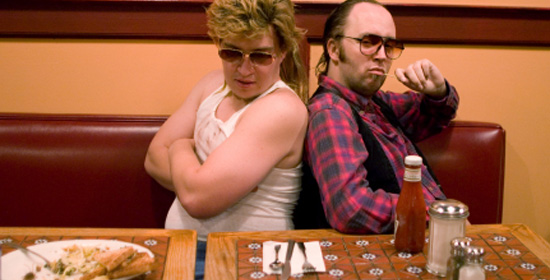 Now, you may be thinking to yourself, isn't dressing like a hillbilly basically the same as dressing like a red neck. The answer, and it may surprise you, is not really. You see a hillbilly is, typically, considered not all that intelligent and rather, well, how to put this nicely, slovenly in their appearance.
To dress like a hillbilly you must consider the hillbilly in its natural environment. Picture a house whose screen door is only resting on the doorframe, a yard full of old stuff and a pickup truck, rusted, sitting on cinderblocks. The woman is standing out front with a baby on her hip and the man is chewing tobacco with a shotgun resting on his hip as he spits tobacco on the ground.
Ok, now that you have the mental picture in your head, let's get onto the art of dressing like a hillbilly. Remember, hillbillies are people who have led, hard lives and look, on average, ten years older than they actually are. Over all hillbilly fashion is surprisingly simple:
1)    Clothing – You want old, one or two sizes too big for you overalls that are stained or look like they get washed once a week. Flannel shirts under the overalls or a worn out looking t-shirt complete the clothing ensemble. For the women, overalls are good but really beat up jeans rolled halfway up your calves is a much better look.
2)    Baseball caps – The cap should be a solid color, black or red, and have a logo on them about sports, beer, farming equipment, women, liquor, fishing or hunting. Make sure the front of the cap is good and curved. Use a baseball to get the look right. Just take the ball, wrap the bill of the cap around it and shove it through the opening in the back of the cap. Make sure the bill is a little wet first.
3)    Hairstyle – As for hairstyles I have two suggestions: Men – mullet, seriously. Women – 80's hair, or dirty and straight with a part in the middle.
4)    Shoes – Your shoes should be work boots and look like you've worn them everyday for the past 5 years. Women: barefoot.
That's the fashion part of it, like I said, surprisingly simple. However, it's not enough to look like a hillbilly; you have to act like one to really pull it off. Hillbillies are not known for their incredible posture, skill at intelligent conversation or cleanliness.  So no funny or witty anecdotes or you will completely blow your look.
Lastly, look older than you are. As I said above, hillbillies live hard lives and age faster than other people. You need to bring that look out, as well so, making your eyes look sunken is a plus. Men, grow a scraggly beard and don't trim it very well. Ladies you have to let your hair get dirty and oily and stop conditioning it.
Remember, you have to look like you're someone who thinks a computer is a magic box that scares you.