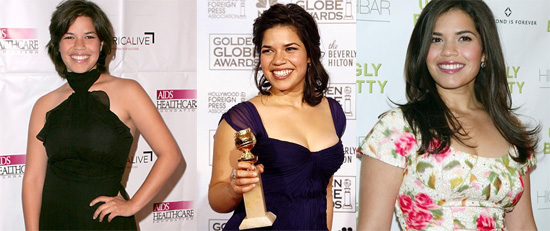 America Ferrera is best known for her lead role in the television series Ugly Betty. She also is widely known for her role in the Sisterhood of the Travelling Pants parts one and two. She has a classic look to her and never seems to try to be more than she really is. It is for that reason that many young women these days aspire to dress like the young actress.
Whether dressing for comfort or for the red carpet, Ferrera always encompasses the All American Girl look and pulls it off with the greatest of ease. Here are some ways that you too can look just as natural and great as Ferrera:
•    Casual: Ferrera is often seen in a pair of form fitting jeans and a t-shirt while she is just walking around. This is an easy look to mimic and also a very comfortable one. Be sure to choose jeans that are indeed form fitting, but that are not too tight as this is not characteristic of Ferrera. Go with lighter colors for the t-shirts as this seem to be a favorite of Ferrera. When in casual mode you can go with sneakers, flip-flops, or even a pair of sensible heals as Ferrera has been seen in all three while dressing down.
•    Formal: Ferrera is a big fan of longer dresses and gowns when it comes time to strut her stuff on the red carpet. When choosing your dress go with one that comes down to at least your knees and go with darker colors as this will have a slimming and elongating effect. Ferrera must love purple and blue as she has been seen in numerous dresses and gowns that are colored so. Be sure that the dress or gown you choose is form fitting, but also be sure that it flatters your figure and isn't too tight. Go with a nice pair of heels that of course match the color of the dress or gown and that also have an open toe.
•    Accessories: Perhaps because she is such an all natural girl, Ferrera wears virtually no accessories. Sometimes at a formal setting she can be spotted with a bracelet on and she usually wears very low key earrings, but other than that, nothing really to speak of. When you think of accessorizing your outfit, go very low key to emulate Ferrera.
•    Hair and make-up: Ferrera has a darker skin tone that the average woman and does not complicate her beautiful tone with a lot of make-up. When you do your make-up, go light and aim for the natural look. When it comes to your hair, wear it down as Ferrera more times than not has hers down. To get the complete Ferrera look, part your hair on one side and use some spray gel to give it some extra body and bounce but be sure to stay on the natural side.
To truly be like Ferrera, just be yourself. She is easily one of the most natural beauties in Hollywood today and certainly proves that women with curves can be beautiful too.