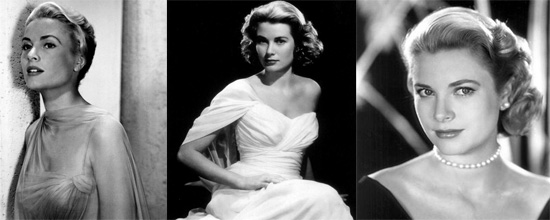 Grace Kelly was a film and fashion icon who eventually became Princess Grace of Monaco. Her style and elegance were unmatched and to this day just the mention of her name makes people think of gracefulness. Kelly tragically lost her life in an automobile accident in 1982 but her flare for style still rings true to this day and many women aspire to look like her.
To look like Grace Kelly you have to think in a simplistic manner. Though she was always dressed to impress, she stayed away from dresses and accessories that were too poofy, filly, and gaudy:
•    Dresses: Really what Grace Kelly wore could be deemed more gowns instead of dresses but if you are not on the way to a Royal Ball then a nice classy dress will do the trick. You will want to go monochromatic and elegant. Kelly chose a neutral color that complimented her skin type and built a wardrobe of well made materials around that base. You can accomplish the same thing but make sure that the colors you pick compliment your skin type and then go from there.
•    Shoes: A well made and elegant shoe with a low heel is just what the doctor ordered. The shoe should of course match the dress and be one solid color.
•    Pearls: One of Kelly's favorite accessories was a simple string of pearls. She could often be seen on camera wearing a strand and this is probably because pearls have always stood for great elegance. Be warned here as pearls can be rather expensive and not everyone has the money of a Princess. But fear not because you can either buy some costume jewelry fake pearls as opposed to the real thing or opt for the real, but less expensive fresh water pearls.
•    Other accessories: Many times Kelly could be found sporting a big pair of sunglasses and these should be relatively easy for you to find as that particular style is back with many of the Hollywood Starlets of today. Any pair that has white frames will do and don't feel like you have to go designer as there are many knock off brands out there that will suffice. If you are finding yourself outside and want to make a Kelly like impression you can also try a sun hat and any type of sheer scarf as Kelly frequently wore these items as well.
•    Hair and makeup: Again in these two departments Kelly went simplistic. Choose a really nice but simple hair style to compliment your new simplistic way of dressing. Kelly often put her hair up in a bun when she was out and about so feel free to do the same. When it comes to makeup remember that less is more. Kelly never went overboard with her makeup and seemed to apply it in such a way that if you didn't know any better, you would swear she wasn't wearing any at all.
All that remains is to practice your grace and elegance and always look and act your best no matter where you find yourself.