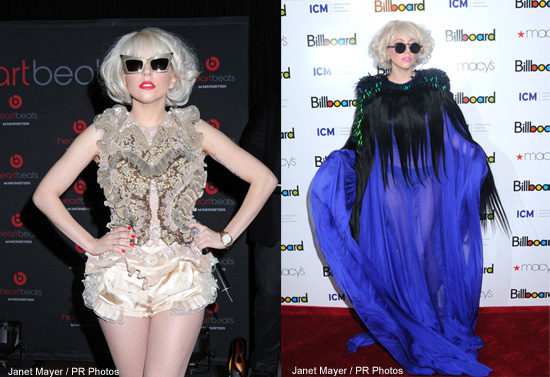 Lady Gaga released her debut album called Just Dance in 2008 and her popularity has been booming ever since. She became so popular that her album has gone to number one in four different countries. Now she has a sudden surge of women all over the globe wanting to dress like her. If you are one of those women then you better be ready to dress bold and daring and be willing to show your legs off.
Lady Gaga has two distinct and unique looks that she goes with. One is wearing very revealing dresses and wearing other very revealing cloths. Here are some ways that you too can look like this music diva:
•    Tops: Sometimes Lady Gaga's tops are little more than a top that covers no more than a bikini. You can wear any number of types of tops to be like Gaga. You can go with a bra-style top, a tube top, or any combination of the two. Here are the rules; you have to always show your stomach, show plenty of cleavage, and the tops must be made of some sort of shiny material such as leather. Stick with darker colors that grab attention like dark blues, silvers, and of course black.
•    Shorts: The operative word here is short. Lady Gaga like to wear short shorts and has very strong legs that she loves showing off. When you pick yours, go for ones that match the top you are wearing and be sure that the coverage you get is minimal. Really anything that covers more than your buttocks is too much if you want to pull off the Gaga look.
•    Dresses: Lady Gaga like to wear dresses that start out as tight on the top and come down to the waist area and puff out. Sometimes she will wear colored stockings and sometimes not, but when you choose your dress you need to go with ones that scream, 'Look at me.' Lady Gaga again likes to show her strong legs off here so when you are considering coverage you don't want to cover much.

•    Accessories: Believe it or not, Lady Gaga doesn't really wear all that much in the way of accessories. Aside of some modest bracelets and conservative earrings, the only other thing you may find her wearing is a hair tie or bow. She does however like to accessorize her clothing –or lack thereof- with wild belts, chains, and other ornamental items. One accessory that she wears quite often is gloves, which are usually black and made of leather.

•    Hair and make-up: Wear your hair strait and long with bangs and you will nail the Gaga hair due. If you want to get technical then you need to bleach your hair blonde. When applying your make-up go big and go bold. Call attention to your lips with a dark red for your lip stick color and be sure to use plenty of rouge on your cheeks as Gaga does.
While this fashion is certainly fun, if you are planning on dressing the Gaga way in the winter time, you better be sure to bring a coat along because you're going to be cold.