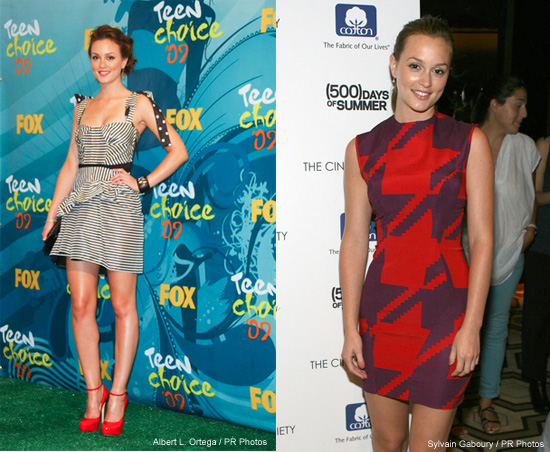 Leighton Meester is an actress and a singer/songwriter, but is probably best known for her role as Blaire Waldorf in the hit series Gossip Girl. The young actress may have fame in her life, but judging by the simplistic way that she dresses, she is not letting it go to her head. She has a very natural and simple look that is easily achieved which is probably why there are many young ladies these days that want to dress like her.
Meester always looks like your typical girl next door no matter where she is. Here is how you can achieve the look as well:
•    Dresses: Meester likes to wear a lot of dresses. The dresses she wears tend to be one solid color and the colors she likes to go with are more on the cheery side such as yellows, whites, and lighter blues. When choosing yours, go for dresses made of lighter materials and ones that cover you all the way down to the top of your knees. You can go sleeveless or sleeved as Meester likes both, but remember that you need to go for the more conservative style dresses.
•    Casual look: When just out and about Meester is often seen in a pair of shorts and a t-shirt. Go for a nice form fitting pair of shorts that come down to about mid thigh. Meester usually goes dark on the colors for her shorts so go with blues and black when choosing yours. The t-shirts are always white or some other very light color so keep that in mind when selecting yours. You can go with tank tops or the traditional t-shirt here as Meester likes both.
•    Formal: Even when she is on the red carpet Meester chooses to keep it on the simple side. Again she likes light and bright colors and opts for a more conservative dress over the long flowing gowns that some actresses wear at those types of events.
•    Shoes: Meester wears sandals almost all the time no matter what she is wearing. The only exception is when she is on the red carpet where she will wear a very conservative pair of heels that have an open-toe. If you choose to go the same route then be sure that your shoes match the dress for your formal affair.
•    Accessories: Not that this will come as a shock, but Meester likes to go on the easy side of accessorizing. She usually has on a conservative pair of earrings, maybe a bracelet or two, and she carries a small purse. When you accessorize your outfit remember bigger is not always better and certainly not for this look.
•    Hair and make-up: Meester usually wears her hair down and it is usually wavy. Mimic this by loosely curling your hair with a curling iron and use a heavy hold hairspray to keep it in place. When applying your make-up go for the more natural look that Meester goes for and don't get wild on your application.
All you have to do now is walk with confidence and let your all-natural looks speak for you as Meester does.