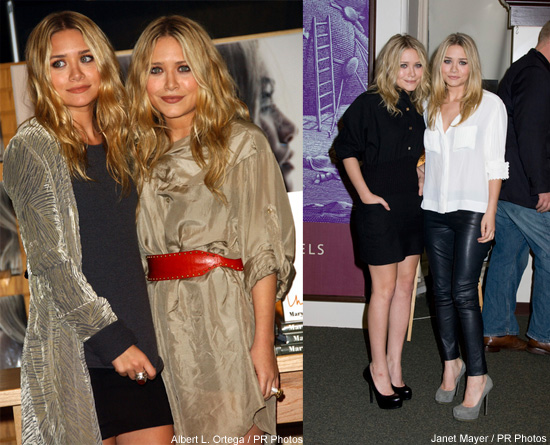 Mary Kate and Ashley Olsen have been followed by celebrity watchers almost since their birth. The adorable baby twins that became TV stars grew into popular adolescents with their own line of clothing and accessories. Still today as young adults, the media and their fans are fascinated by every move they make, their style and everything about them. Known for creating their own fashion trends, many people want to emulate their style.
If you want to learn how to dress like the Olsen twins, there are some must-haves that you need to add to your wardrobe. Their look is heavy into accessories, so that is a great place to start. Mary Kate and Ashley always wear large oversized sunglasses and carry large oversized but very functional bags. In addition, they tend to pair black or other dark colored tights with many of their outfits. These are an easy addition to your wardrobe. Jewelry is another must-have for the Olsen twin look. The twins often sport clunky bracelets, big earrings and long necklaces. So stock up on these items. Luckily jewelry is a one-size-fits-most, so anyone can have the Olsen jewelry style. Flowing scarves, often providing the only touch of color in an outfit are true Olsen style staples too. Glam is a hallmark of their look.
Mary Kate and Ashley have a penchant for dark colors in their wardrobe. There is a large amount of black in the outfits they are most commonly seen wearing. Accessories often bring the only color to an Olsen twin outfit. Much of their look is created layering different textures, colors and fun pieces. High heeled footwear, including unusual shoes and high heeled boots are often worn by the twins in their unique outfits.
The ensembles that are typically worn by Mary Kate and Ashley are usually made up of a combination of vintage clothes and trendy pieces. This eclectic combination makes for a unique look that you cannot recreate simply by buying all the pieces from one store. If you want to dress like the Olsen twins, you will need to start by finding vintage clothes as a base for your wardrobe. Yard sales, consignment shops and online vintage clothing sellers are go-to destinations for such items.
In your quest to dress like the Olsen twins, remember that their style is very casual for the most part. While they do like to dress up for special occasions and love glam, much of their everyday wear consists of long sweaters, layers, oversized items, jeans, leggings, interesting shoes and great accessories. Very little of their clothes is form fitting or provocative. Keep it modest and varied and you can easily pull off an Olsen twins look.