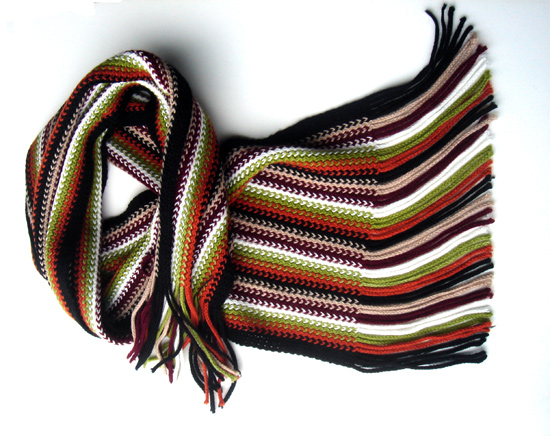 Most every fashionista owns a scarf, but lately this wardrobe staple seems to be especially popular as a fashion accessory. Nothing screams sophisticate like a beautiful, well-placed scarf. One of the advantages of wearing a scarf is they can be used to highlight (or downplay) your most attractive features, which is why they should be a part of every woman's wardrobe.
Scarves aren't just for wintertime either. Whether it's windy and cold or warm and sunny, this fashion accessory can be worn year-round. The trick is choosing the right shape and the right fabric, and then wearing it with grace. Here are a few pointers for choosing a scarf that you can get the most out of.
•    Scarves come in a rainbow of fabrics. Wool and cashmere materials are the best choices for winter wear because they retain warmth. Before purchasing, however, be sure the material does not irritate your skin.  Silk scarves are a nice option if you are looking for a dressier style, or if you want something to wear during the summer as the lightweight fabric allows body heat to escape easily.
•    With so many styles available, it can be difficult to know what shape of scarf to buy. Scarves come in triangles, squares, and rectangles of varying sizes. The easiest and most versatile shape to have is a long, thin rectangular scarf. The longer length will make the piece more functional, allowing you to wear it as a headwrap, a belt, or around your neck or shoulders.
•    After you decide on the fabric and shape, you can then focus on the color and print of your scarf. First decide if you want the scarf to stand out or coordinate with your outfit. If you are wearing monotones, a brightly colored and patterned scarf will help to pull your outfit together and add sizzle. A scarf that matches your clothing will be much more subtle, while still adding sophistication. If your clothing includes bright colors or prints, a solid color scarf will help anchor your look.
•    In the spring and fall, wear a medium-weight scarf looped around your neck to protect against the chill. Choose a heavier-weight scarf for winter wear, and wrap around your ears and neck to stay warm and cozy.
•    Tie a scarf around your waist for a sexy alternative to wearing a belt. Fasten it in place with a beautiful brooch or sparkly pin.
•    For a chic bracelet, tie a scarf around your wrist and fasten with a brooch or pin.
•    At the pool, turn a lightweight scarf draped around your waist into a fabulous sarong by tying it in front or at the side. You could even turn a large square scarf into a sexy halter top by tying two ends around your back.
•    Scarves are a wonderful hair accessory, whether worn tied around a ponytail, used as a headband or wrapped around the head to cover up a bad dye job.