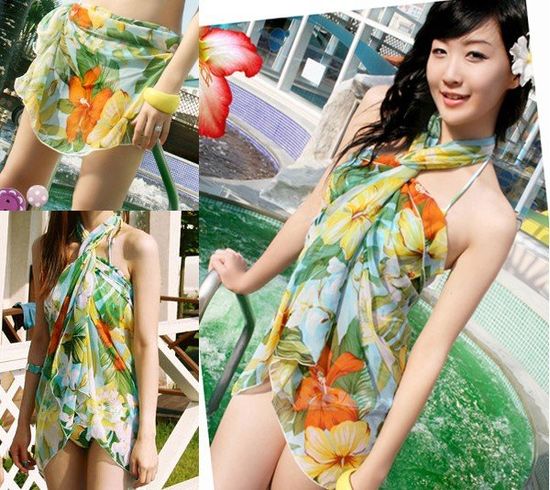 Guide to Bathing Suit Cover up Fashion
You're done at the beach or the pool and you want to go into the store but you are still wearing your bathing suit, what do you do? Well some of you might just go into the store in your bikinis but for the rest of you that want to cover up you can do so and still look fashionable. Yes you could throw on a pair of shorts and a t-shirt, but what fun would that be? Besides there are other times that you will want to cover up your swimwear without totally covering it up, like when you take a stroll down the beach or when walking poolside.
Whatever your reasons are for wanting to cover up your bathing suit, here are some ways that you can do so and still look fashionable in the process:
Mess skirts: These are quickly gaining popularity with women everywhere. Mess skirts come in a variety of colors and achieve the perfect cover up while still showing a little bit of your suit underneath. While these make the perfect throw on for a quick jaunt down the beach or poolside, you may want to cover up a bit more before going into a public place.
Wraps: There are all sorts of stylish wraps that you can get today that may be the perfect fashionable cover up option for you. You can go with a wrap that just covers your lower half and then use a scarf to throw over your shoulders and sort of offer coverage for your top half as well. You can also go with a longer wrap that will give you more coverage as you will wrap it at chest level and let it hang from there.
Button down shirts: A short sleeved button down shirt also does the trick for some added cover up. Be sure to go with a lighter color and feel free to experiment with the buttons. If you are feeling a bit reeling risky then leave it totally unbuttoned, or you can be more on the conservative side and button it up almost all the way.
Cover up skirts: You can actually buy skirts that are made especially to cover up the lower part of your body when you are wearing a bathing suit. These come in a wide variety of styles and fun colors so finding one you like shouldn't be a problem. These types of cover up skirts go perfect with the button down shirt option or use the scarf trick to cover part of your upper half.
Cover up dresses: Just like their cover up skirt cousins, these dresses are made especially for you to cover up your stuff when need be as well. They too come in a wide variety of styles and colors and finding one that you like should be a snap. These dresses are the perfect choice when you don't want to wear a shirt and just want something to throw on rather quickly.
With fashion as fun and full of excitement as it is today, you should never have a problem with finding the perfect cover up for your swimwear.