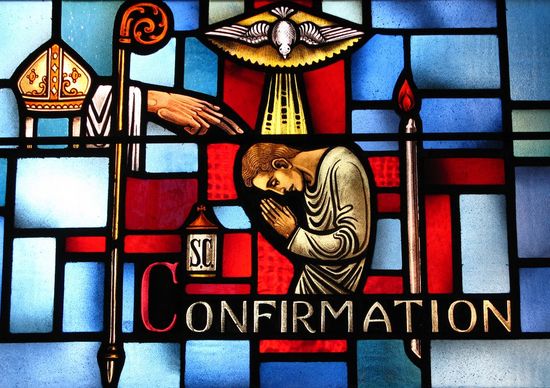 Confirmation is a special ceremony that requires a certain level of respectful dress in order to show respect to everyone present in the church as well as to the institution itself. In many parishes, there are strict dress codes that specify exactly what must be worn when taking part in a confirmation ceremony. In others, there are a few guidelines that kids can use to put together a respectful, appropriate outfit.
Girls
For girls, a nice dress is generally a part of the required attire. In just about any church confirmation ceremony, it would be inappropriate to wear anything that reveals the stomach at all. The dress should not be strapless and it should not have spaghetti straps. The dress may be sleeveless if it is a tasteful dress that is not too revealing elsewhere in its design.
If a skirt is worn, it should be at least knee length A longer dress than falls two or three inches below the knee or that hits at mid-calf may be required in some churches.
No matter what you choose to wear, make sure it is not sheer or too tight. A see-through shirt, even with a camisole under it, is not appropriate at confirmation. Likewise, a tight-fitting dress, shirt or skirt can be considered disrespectful. Shorts should be avoided as well as t-shirts.
Keep footwear formal but not too adult in style. A pair of low heels is an age appropriate selection that may be worn to confirmation, but a strappy pair of very high heels can be considered inappropriate to the occasion. A pair of flats that matches the dress is a good way to stay appropriate as well as comfortable and in style.
Keep jewelry to a minimum. A simple earring and necklace set that is tasteful and not too large is appropriate to the occasion. Dozens of bangle bracelets are not. Keep jewelry small and not too showy. Take out any piercings that are not on the ears.
Boys
Boys should wear either a suit or an outfit that incorporates a jacket or tie into a cohesive outfit. The key is to keep the outfit dressy and respectful. If the boy doesn't own a suit, the outfit can consist of a dressy pair of khaki pants with a neutral-colored tie. The outfit may also be a dressy jacket with a dark pair of slacks and a light button-up shirt. Keep ties neutral in color.
Boys should not wear shorts, short-sleeved shirts or very loose pants. Keep the button-up shirts light in color and without patterns. The trend of wearing pants that are loose enough to slip off is an inappropriate look for confirmation. Choose ones that fit well or wear a belt.
Footwear should fit the occasion and the outfit. Tennis shoes are generally not advised for a confirmation ceremony. The shoes can be nice loafers that are in good condition or they can be dressier leather shoes. The shoes should be neutral in color and should generally match the outfit being worn.