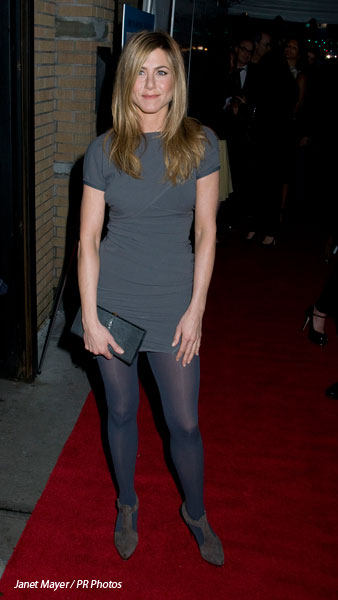 Jennifer Aniston is one of the hottest actresses around and has been for many years. Her success on the TV show "Friends" catapulted her to fame, so much so that her name is easily recognizable to practically everyone over the age of 20. She was also famously married to Brad Pitt, a popular movie star. Jennifer has gone on to become a movie star in her own right since the ending of the TV series that made her famous. She is often named on best dressed lists and looks great in everything she wears, which makes her style one that many women want to copy.
Jennifer often opts for jeans for a casual look. She tends to gravitate toward figure hugging jeans and often pairs them with sweaters or T-shirts. Tank tops with some unusual or decorative touch to them are common choices for Aniston also. For warm weather, long shorts and tees with interesting necklines are a winner for Jennifer. She has also been photographed wearing a simple white blouse under a blazer with her jeans. Luckily these are all very easy ensembles to recreate.
When Jennifer Aniston does red carpet duty, one of the things that stands out is the simplicity of the dresses she wears. She always gravitates towards solid colors, often black, and usually ones that reveal her shoulders. Her dresses are always formfitting to show off her great body. Even Aniston's dress up look can be easily found online and in many mall stores also. Jennifer Aniston is possibly the easiest celebrity style to mimic.
While Jennifer Aniston does like accessories, they tend to be much simpler than many other celebrity looks. She is into colorful scarves. Her belts tend to be very ordinary. She almost always has a purse. They tend to range in size from medium to large, but she will occasionally use clutches. She loves her high heels and is almost always in them. She wears simply jewelry regularly.
In order to dress like Jennifer Aniston, you will need to know where to find most of these easy and comfortable looks. Some of the sites where you can find clothing to replicate a Jennifer Aniston look include Blue Fly or even the Gap for causal wear. These are very easy to find retailers because Jennifer's look is so completely all-American. You can find many other items similar to her style in other mall stores also. Pinpoint the Jennifer Aniston looks you most want to recreate and get started shopping these and other retailers.
If you are looking to emulate Jennifer's look, start with the basics. Get some nice jeans and keep them pressed and looking sharp. Invest in some classic styles like a white cotton button down shirt, a navy blazer, some black heels and a variety of T-shirts. Get a little black dress for your important dressy events in your life. By building a wardrobe around the basics of Jennifer Aniston's look, you will be able to easily recreate her exciting and down to earth style.