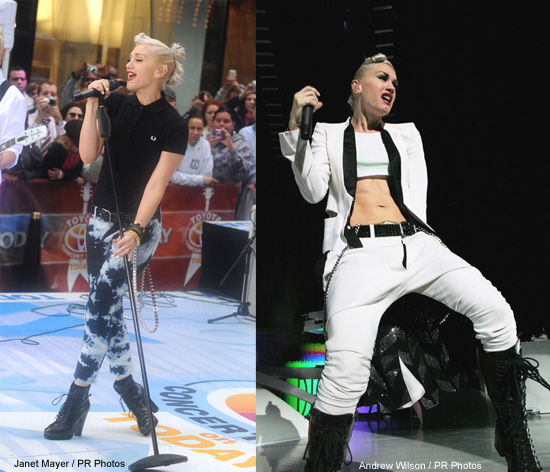 Gwen Stefani was one of the most popular female punk rockers that ever stepped foot on the stage when she was the lead singer for the band No Doubt. Though she now plays mostly new wave music now that she is on her own, she is still continuing to set trends every time she performs. While her style is somewhat eclectic it is definitely not for everyone. Stefani pulls off some outfits that would look horrendous on others and her ultra flat belly helps a lot with the cropped tank tops that she is frequently wearing.
While Stefani looks great dressed as a punk rocker, she also looks equally as good while on the red carpet and has been to many award shows and banquets looking great but still sporting a style that is unique. Here are some ways to pull off the Gwen Stefani look:
•    Punk Rocker Look 1: Stefani is famous for her vintage style look here. You can go to a vintage style clothing store and mix and match your way to Stefanidome. Go with a lot of plaids and stripes and don't let that combination scare you as the right mix looks great. Top off this look with some funky style sunglasses and some costume jewelry making sure to go big on the earrings. For your hair, simply do what Stefani does and pull it back into a pony tail.
•    Punk Rocker Look 2: Go totally simplistic like Stefani often did in the band No Doubt and just get some track pants and a cropped tank top with some classic Converse sneakers. This is an ultra easy look to pull off, just make sure that you are going with loud and bright colors for the tank tops like pinks and yellows. Again pull that hair back into a pony tail.

•    Punk Rocker Look 3: Get yourself a nice pair of ¾ cargo pants and a really cool rocker tee and finish off the look with high heels. To complete the illusion, add a belly chain and of course put your hair in a pony tail.

•    Awards Show Look: Stefani always looks great at special events and award shows but also shocks the crowd with some of the dresses and gowns she shows up in. One of her most famous appearances was when she wore a fitted leopard print dress. This is easily replicated but should be noted that some people just don't look good in leopard print or anything else that is fitted for that matter. If you can pull of the look, you will need a solid color high heel shoe with a closed toe and here is the exception to the hair rule. Stefani is in a pony tail almost 90 percent of the time she is seen, but when she goes to an awards show, she goes all out in the hair department. Before you go to your important event looking like Stefani, make sure you take some extra time with your hair or see your stylist beforehand.
So get your sassy attitude ready to go and don't forget to do plenty of sit-ups; you'll need them to pull off some of the styles that Stefani has made famous.