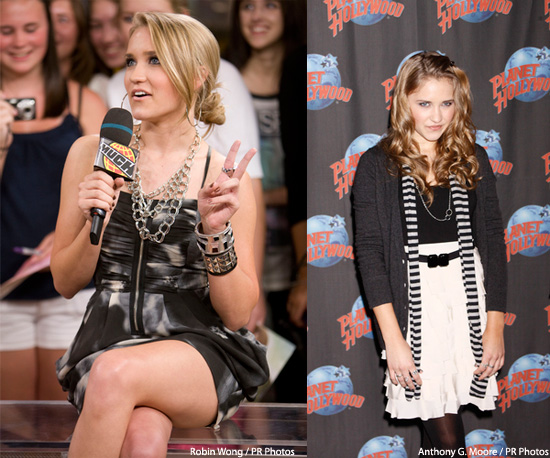 Though Emily Osment was in the two hit kid movies Spy Kids 2 and Spy Kids 3 she is probably best known for her role in the Disney Channel smash hit Hannah Montana where she played Lilly Truscott. Because of the popularity of the series and later the movie, Osment has become a much admired young actress and teenage girls all over the country now aspire to dress like her.
Osment has the classic 'teen' look that you would expect just about any other 17 year old girl to have and her style can range from a fun hip-hop style to a classic casual style. Here are some ways that you too can look like this young Hollywood starlet:
•    Hip-Hop look: Off the camera Osment is seen in a more hip-hop style of dress. To imitate this style of Osment start with a nice relaxed fit pair of cargo pants. Osment likes to layer her shirts so you should start with one that is long sleeved and then go to one that is short sleeved to wear over top. Finish it off with a jacket that has a hood. With her hip-hop look Osment always wears a poofy looking hat and turns the bill of the hat sideways. Footwear can consist of high top sneakers and you can accessorize the look with some bracelets and rings, but nothing too flashy.
•    Classic casual look: When Osment is doing an interview or appearing somewhere where the camera will be on her she tends to dress in a more classic casual way. She likes to wear dresses that are about knee length and she really doesn't stand fast to any color rule. When choosing your dress, pick one that is made of a lighter material and don't be afraid of fun and exciting patterns. Osment likes to wear solid colors but does occasionally go all out in the design and pattern department. With her dresses she always wears a sophisticated looking pair of heels that you can easily imitate so long as you are sure that the shoes compliment and match the dress. Accessorize with light and elegant earrings, bracelets, necklaces, and rings and you will have her classic casual look down.
•    Hair and make-up: Osment has lovely long hair and almost always shows that fact by wearing it down. To achieve the same style that she does with her hair you can loosely curl your hair with a curling iron and use some heavy holding hair spray to keep it in place. When you go to apply your make-up think light and natural as Osment always looks conservative in her make-up application. Stay away from darker colored or wild colored lip stick and instead stick to a more flesh toned color that gives the appearance of you not really wearing any lip stick at all.
Lastly to complete her look you will have to always carry a winning attitude and smile with you wherever you go as Osment does. Now you have all the components to look like this up and coming super star actress.