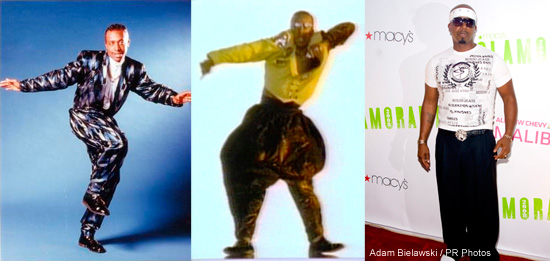 Back in the late 1980's MC Hammer gave the rap world such familiar hits as To Legit to Quit and You Can't Touch This. He was so popular at one point in time that it seemed impossible to turn on the radio without hearing one of his songs every hour. Even though his music is no longer all the rage, his whacky style of dressing still is. The way he dressed when he preformed was almost as entertaining as the songs that he sang.
If you want to dress like MC Hammer you have to be prepared to be stared at quite a bit. That was after all Hammers' main focus, to draw attention to himself. Here are some ways to dress like MC Hammer:
•    Parachute pants: This is MC Hammer's trademark. No matter what else he wore while he was performing, both he and all the dancers that were on the stage with him wore parachute pants. Parachute pants are typically tight on the ankles and waist and are loose and parachute looking in the legs. Hammer took his parachute pants so seriously that he actually had his custom made. You don't need to go this far though as a vintage store will probably have some pants that will do the trick.
•    Jackets: There are no rules here except that you should go for something that clashes horribly with the pants. Hammer always seemed to have fun mixing and matching his jackets with his parachute pants. The jacket you choose should also be form fitting and if you have a physique like Hammer did then you can go shirtless like Hammer did. If you are not comfortable going shirtless, have some more fun finding a clashing t-shirt to wear under your jacket.
•    Flat soled boots: Hammer was always dancing when he performed and for this reason he had to wear boots with a flat sole. The boots almost always matched the pants in color and clashed horrifically with the entire ensemble. A good trick here is to find an old pair of boxing boots at a thrift store and spray paint them and add some glitter and or sequins to them. Now you have an affordable pair of Hammer boots.
•    Accessories: Hammer loved to be flashy with his accessories. Duplicate his flare by wearing big sunglasses that match your pants, but never your jacket and make sure to get plenty of thick gold chains that sport all sorts of medallions.

•    Hair: The last thing that will tie the entire MC Hammer look together is the hair. Hammer was famous for his fade. To get the Hammer fade, start tight and short on the sides of your hair and gradually fade up your hair so the end result looks like you have a flat head. Top it off with shaving a few lines in the side of your head and you are set.
While we all may laugh at how MC Hammer dressed, you have to admit he was a pretty good dancer considering the wardrobe he had on.