T-Shirts have the ability to connect us as social beings or they can disconnect us from one another. The reactions they can evoke are based on the image, phrase, color or pattern of a t-shirt. Up until recently they have been used to display art, make statements or simply cover your skin. There purpose has now evolved into another form of ingenious social interaction. Below are three examples of the next generation of t-shirts.

1. The 8 Bit Dynamic Life Shirt
ThinkGeek.com released a black t-shirt with six red hearts and during normal activities the number of glowing hearts is two and a half. But if you get within hugging distance of another person who is wearing the same shirt six hearts will light up on both shirts.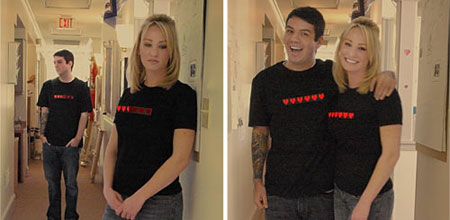 These seem really fun to wear as a couple or even just by yourself and hope that someday you will run into someone else who has the same t-shirt. I would love to see the hearts do more than just react to another t-shirt but to actually measure the temperature or moisture and change like the old mood rings. With something like that it could be the same way with hearts or actually opposite so the more worked up you get it would show danger skulls letting people know they should stay away.
Buy: 8 Bit Dynamic Heart Shirt

2. Reactee SMS/Text T-Shirts
Reactee launched a line of t-shirts that don't change form or colors but it does leave an open invitation for others communicate with you. If someone sees your t-shirt and sends a SMS to the number on the shirt they will receive a custom text message response from the creator of the t-shirt. These shirts can be used by political activists, organizations, people who want a date or anyone who wants a new way to communicate whether for business or personal reasons. You can browse creations by others or you can create your own reaction t-shirt.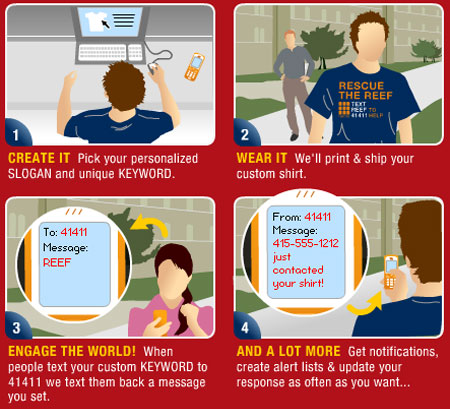 What is great about Reactee is that there are so many opportunities entreprenuers to use this concept to connect with strangers

Buy or Create your own Reactee

3. Hug Shirt
The Hug Shirt by Cute Circuit is a shirt allows people send hugs via cellphone. Inside of the Hug Shirt are sensors that "feel the strength of the touch, the skin warmth and the heartbeat rate of the sender and actuators that recreate the sensation of touch, warmth and emotion of the hug to the shirt of the distant loved one". When you send a hug using your mobile phone it delivers the hug data to your friend's phone and transmits it by Bluetooth to their shirt. Hugs can now be sent around the world. The Hug Shirt uses RoHS components so it lead-free and non-toxic. To wash your shirt you remove the sensors and they can easily be put back with little effort. Hugs can be sent whether or not both parties have a hug shirt but it sure is more fun if a couple each has their own shirt. The shirt has received great reviews but don't excited yet as it has not been released for sale to the public just yet. The Hug Shirt was expected to hit the market in mid-2007 but it hasn't hit the street yet. It will be priced "around the same as an iPod" (CNN)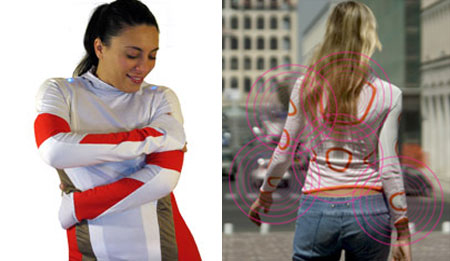 While this may not be a shirt that you will wear everyday it does open up a new world for those who are still trying to work on that long distance relationship.
More Info on the Hug Shirt: Visit Cute Circuit