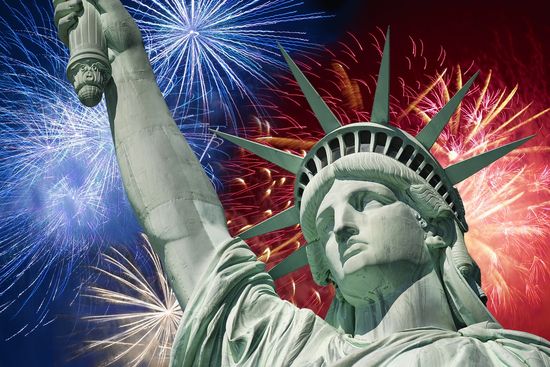 Freedom Rings on Independence Day
The Fourth of July is one of the most beloved holidays in the United States, as it celebrates America's hard won independence from Britain after the signing and adoption of the Declaration of Independence in 1776, followed by years of war known as the American Revolution. This day, of all American holidays and traditions, is made special by its unique precedent.
The first celebration of the adoption of the Declaration of Independence was held on July 8th, 1776 by the citizens of Philadelphia, after the document was read to the public assembled in the State House Yard, more commonly known today as Independence Square. Bells rang and people cheered, and despite the threat of war with the most powerful nation in the world, Great Britain, the American people first displayed their determination and spirit to govern themselves and preserve basic rights to which the founding fathers felt all humans deserve.
On July 2, 1777, just prior to the first anniversary of the signing of the Declaration of Independence, citizens of Philadelphia felt a celebration was in order. Arrangements were quickly made and Congress adjourned for the day. Bells rang once again, warships were decorated with flags and bunting and fireworks were set off that night. The following year, the required number of nine states, enough to ratify the document, adopted the Declaration. Though New York had abstained from voting, and Pennsylvania and South Carolina voted 'No', and Delaware was divided, but majority ruled. The right to vote in national elections continues to this day, a freedom that many countries in the world still don't enjoy.
That year of 1778, Philadelphia celebrated in grand style. Streets were cleaned and readied for a parade over a route that extended almost two miles. The parade was led by twelve axmen 'dressed in white frock, with black girdles around their waists and wearing ornamental caps'. They were followed by the First City Troop of Light Dragoons and then by five other groups with names that symbolized Independence. Chief Justice McKean and two judges, whose robes draped a carriage decorated to look like an eagle carried the Constitution, attached to a staff that was crowned with 'Liberty' and the words, 'The People' imprinted in gold letters on the staff just below the document. Thus began the tradition of Fourth of July parades that exist to this day in nearly every town and city within the United States.
By 1810, communities in America, and especially within the first thirteen states, held larger and more elaborate celebrations than ever before. Church bells rang at sunrise, noon and sunset, and ships within harbors were decorated with red, white and blue bunting. Flags hung everywhere and military parades became the norm. Fireworks became a traditional fixture in Independence Day celebrations, as did military ceremonies and demonstrations. In many western states, rodeos and other events were held on the fourth of July as well, in addition to fairs and huge community dinners.
The Fourth of July is considered a day that is memorialized in the hearts and minds of Americans throughout generations as a day that celebrates freedom and democracy. Fireworks, picnics and family gatherings bring Americans of all races and beliefs together on this day, to celebrate freedoms unique to America. It's a day to remember that such freedoms don't come easy and that Americans must always remember the risks and sacrifices made by our forefathers to ensure us those freedoms. Independence Day is a day when Americans celebrate their inimitable spirit and fortitude, that special determination and strength of character that makes each citizen of the United States an American by nature.