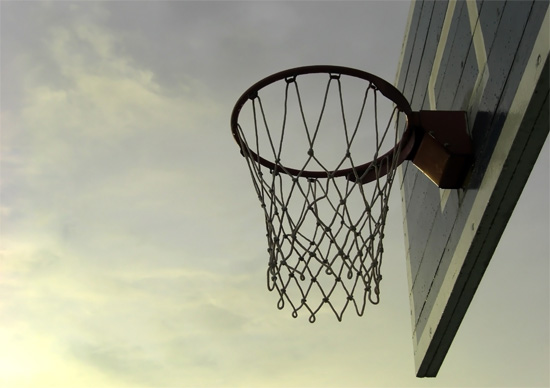 Playing basketball is a great way to get some exercise and there are many courts that are outside so you can even get some fresh air in the process. As fun as the game is it is important that you dress properly to get the maximum pleasure out of the game. Dressing the right way will have you feeling great and also have you receiving a lot less trash talk from opponents as well.
While there is no set in stone rules for how to dress when you are playing basketball, here are some tips that will help you to look great and feel great too.
•    Shoes: Starting with the feet first is essential as the entire time you play basketball you are running and jumping. For this reason you must be sure to have the proper foot wear. There are actually shoes at the shoe store that are called basketball shoes and these are easily spotted by the high top design on an otherwise sneaker looking shoe. While you can play basket ball in low tops, it really isn't recommended and doing so is almost always a recipe for a twisted or sprained ankle. A good pair of high tops is the key to enjoying many games of basketball.
•    Shorts: With the amount of sweating you will be doing, you will definitely want to go with a good pair of shorts. Just as with the shoes there are shorts that are called basketball shorts. These shorts are typically longer than normal shorts and are made of a lightweight, breathable material. There are generally no pockets and there is usually an elastic waist bald and a draw string to help cinch up the shorts. They should be very loose fitting as this will allow for maximum movement.
•    Shirts: While any old t-shirt will do the trick you may want to go with a, you guessed it, basketball shirt or jersey. These types of shirts are sleeveless and usually made of the same lightweight materials that the short are made of. You can jazz up your look here and get a basketball shirt that features your favorite team on it and even get one that has your favorite player's name on the back. There are even some companies online that will custom print your last name, or any other name that you want, on the back of the shirt.
•    Other equipment: If you tend to be a big sweater then you will want to pick up a headband and some wrist bands. A headband may look a little funny, but it will absorb the sweat and keep it from running into your eyes. Wrist bands will also absorb sweat and this will keep the ball and your hands dry while you are dribbling or handling the ball. If you wear glasses then you will need to talk to your eye doctor about getting sports goggles that are in your prescription. This will allow you to see what you need to see without the risk of you breaking your expensive glasses.
Basket ball is a great sport and it is enjoyed the most when you dress for courtside success.