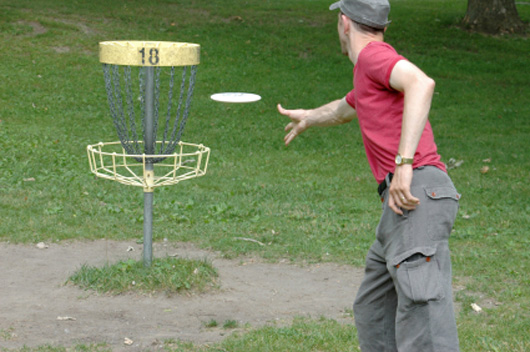 The sport of disc golf is one of the world's fastest growing sports because it can be played by people of any age and fitness level. Disc golf developed informally with people using Frisbees and tossing them into targets such as trash cans, trees or whatever happened to be nearby. Those games gradually evolved into the game of disc golf. It's a sport that is easy to learn and lots of fun, making disc golf courses increasingly popular among families and individuals of all ages.
Disc golf has similarities to standard golf, but rather than using golf balls and clubs and hitting a ball into a hole, players use discs and aim into a basket mounted at a "disc pole hole." The goal is to start from the tee area and complete each hole in the fewest number of throws. A disc golf course usually has nine or 18 holes, and the player that completes the course with the fewest number of throws wins.
One of the unique aspects of disc golf is that a course can utilize almost any terrain. Where traditional golf requires flat and gently rolling landscapes that are meticulously maintained, disc golf can be played regardless of hills, trees, rocks, waterways and other natural obstacles. It can often make use of land that cannot be utilized for other sports, buildings or developments. There are also few maintenance and upkeep costs associated with disc golf courses, which makes it an attractive option for communities and recreational facilities.
If you are new to the sport of disc golf, you are definitely in for a good time. Being outdoors, enjoying nature and having fun with friends may make it your new favorite hobby! Disc golf is far less pretentious than traditional golf, so clothing is comfortable and low-key. Because there are lunging and throwing movements involved, you should choose clothing that is loose, similar to what you would wear for athletics. You should also wear items that you don't mind getting dirty in. T-shirts and shorts are totally acceptable attire for disc golf.
Shoes are another important consideration when playing disc golf. Disc golf courses often include rugged terrain, and the course can be wet, muddy, hot or anything in between. Tennis shoes will work, but professionals use shoes that are rugged enough to withstand lots of wear-and-tear and that are also waterproof.
If you are starting your game in the morning and playing into the day, you should dress in layers so that if you start to get hot, you can remove a layer of clothing. On the flip side, if you start in the middle of the day and play into the evening, you should consider bringing a jacket for when the temperatures begin to cool down.
Proper head apparel can both protect you from the sun's rays and help improve your play. A baseball cap is suitable, while a visor will keep the sun out of your eyes and allow your head to breathe. Sunscreen is also essential, so plan ahead to truly enjoy this great sport!