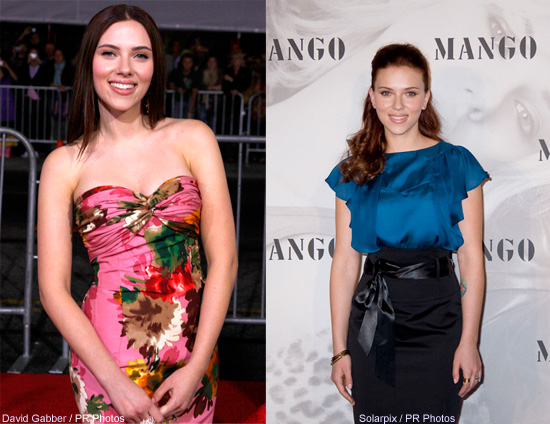 Scarlett Johansson is a popular American actress who is much followed in the press. She has been acting since the age of 10 and has received multiple award nominations for her work. This beautiful blond actress is married to Canadian actor Ryan Reynolds. She also has a music career in addition to the award-winning acting career she enjoys. She is also active politically and with charities. She is from a very culturally diverse family that has show business in the blood. She is also fiercely private about certain aspects of her life.
Scarlett Johansson is a very beautiful woman with an hourglass figure. Many of her fashion choices are made in consequence of her figure. She doesn't necessarily try to camouflage it, but she wants to show it to its best possible light. She tends to gravitate towards vintage clothing that was made for exactly this body type. She also has a tendency to choose tops that are low cut or have interesting details in the front. For everyday wear, Scarlett gravitates toward short dresses that show off her assets.
When it comes to red carpet wear, it is very important to make an entrance. Scarlett always chooses a striking dress that oozes with sensuality. Her long flowing gowns are typically off the shoulder and accentuate her curves. Heavier, more dramatic makeup than usual and coiffed hair create a flawless look for her that has the classic look of years gone by.
In regards to accessories, Scarlet likes big jewelry and is often spotted wearing huge necklaces. She also likes earrings that dangle. However, small delicate earrings are the norm according to Scarlett's fashion sense. Her taste in shoes is definitely high heels, with shoes that have the toes peeking out being one of her favorites. In fact, even the boots she wears are high-heeled. She also loves big dark glasses and fun purses.
If you want to dress like Scarlett Johansson, be prepared to wear a variety of feminine, figure-hugging dresses and other items to look your best. She is all about a very sexy look. If you are striving to mimic her look, you may also want to invest in some figure accentuating undergarments like push-up bras and underwear that slim, in order to create the best lines under these sexy outfits. In addition, you will need to buy skinny pants and get a variety of tops that show your décolletage. Be sure to get a selection of heels, some dark glasses and some fun costume jewelry.
To make your Scarlett Johansson look complete, opt for simple makeup with lip gloss instead of lipstick. Try a variety of looks with your hair. Scarlett wears it both up and down. Keep your hair in tip top condition and have it dyed regularly if it needs it. Work with any natural curl on occasion for a sexy wind blown look.
Start dressing like Scarlett Johansson today and before you know it, you'll be the center of attention.