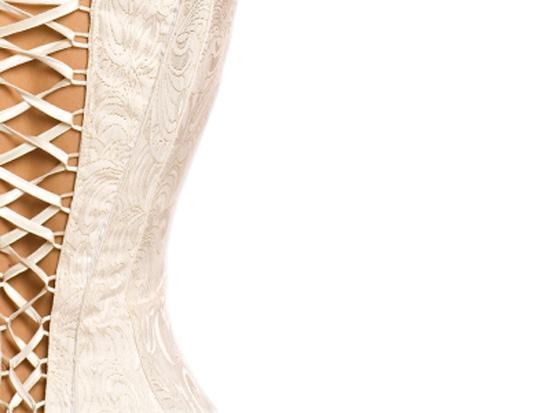 Back in the old days women wore corsets under their clothing in an effort to shape their torsos in a way that was becoming of the time. These days women still like to shape their torsos with a corset but they are no longer trying to hide the fact that they are wearing the garment and instead are wearing corsets as an outer wear piece as opposed to an underwear piece.
Corsets can be worn in a number of different ways and paired with many different looks to create certain styles. Here are some ways you can wear your corset:
•    With jeans: A great look with a corset is a great looking pair of jeans. Because the corset is tight the jeans too should be tight. With this look you can go totally risqué and wear jeans and the corset only or you can go with a long sleeved undershirt that is open at the neck line and wear the corset over top of that. If you wear a standalone corset you will obviously get one that covers your breasts but if you wear a shirt underneath then you will want to opt for the type of corset that goes just below the bust line. Finish off the look with a strappy style heel.
•    With dresses: This look is being made popular by a number of Hollywood starlets on the red carpet. A nice form fitting dress that puffs out at the bottom is what you will start with and then finish it off with a corset over top. The corset will be the type that goes just below the bust line and it should contain a contrasting color in relation to the dress. Your shoes should be heels and should complement the dress you wear.
•    With tights: Another popular and easy look to pull off with a corset is the tights look. Start with a pair of black tights and then get a short sleeved white t-shirt that is longer than normal and that will hang off of one shoulder. Then wear a black corset that comes just under the bust line and complete this sassy look with a pair of black heels.
•    With a jacket: This look requires jeans to start off with that are usually a darker color. Next you will wear a standalone corset that will cover your breasts. The corset can be any color you like, but a brighter color such as red will draw more attention to the fact that you have it on. Finally wear a blazer style jacket or even a leather jacket and the look is complete. High heels go perfect with this look.
•    Pencil skirts: Wearing a pencil skirt and a matching stand alone corset makes for a great slimming look. The corset can have some simple designs to it such as vertical stripes if you like or you can opt for a solid color. This style is complimented well with a pair of matching pump-style heels.
Corsets are not just for making women look slim anymore. They are now in the mainstream of fashion and make a statement of confidence and sexiness all at the same time.