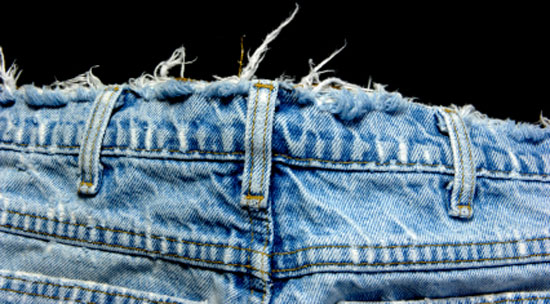 Frayed jeans, tops, elbows and hems are amongst the absolute most stylish looks today, especially amongst the younger set. Kids pay big bucks for outfits that look like they are worn out. However, many of us, especially anyone older than 30, don't want the frayed look and are frustrated when we find that our favorite clothing has begun to fray. We spend money on a variety of products that are designed to stop fraying clothes. We sew new hems in order to prevent further fraying and use other techniques as well. So what exactly is fraying and why do clothes fray?
Typically clothes fray because there is a cut end of the fabric used in making the clothes that does not have a hem or some sort of fray treatment to keep it from unraveling. Basically the weave of the fabric is unprotected, so it starts to undo itself. Whether or not it frays quickly or not depends on many things, like the use of the clothing, the age of the clothing, the quality of it and the tightness of the weave.
Wear and tear can cause fraying, sometimes much to the delight of those who like the worn look. Cutting a T-shirt or other item of clothing for deconstruction or reconstruction purposes is a sure way to achieve some much-wanted fraying, Those strategic cuts will expose the weave of the cloth and make it vulnerable to fraying. This often gives a strategic kind of look of unfinished hems, see-through holes and more. For the young person into this look, strategic fraying is just what they want.
If you love the look of frayed clothes it is quite easy to take even new items and cause them to fray. A pair of scissors and a run through the washer and dryer will do it for many items. For people who dislike frayed clothes, extra care of their attire is needed. Be sure to pay attention to hems, especially if pants hems are a little too long and get extra wear from the ground. Repair clothing at the first sign of holes or fraying. Use fray check on edges of fabric to avoid fraying. Replace items that cannot be salvaged.
Get started today with your new frayed look and be proud of it. Know that you are on the cutting edge of style amongst young people. Fraying is cool and anybody can do it or let nature do it for you.