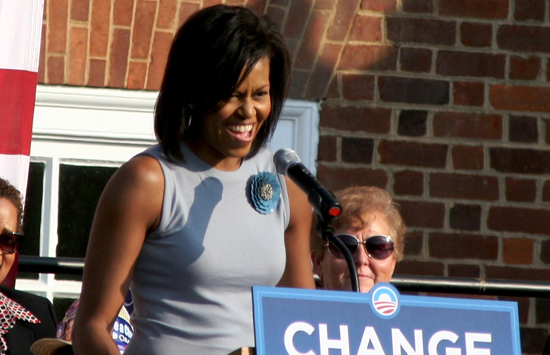 Ever since the dawn of television, Americans, and especially American women, have been fascinated with the wardrobe styles of the first ladies of our country. The fashion icon that sticks out most in our minds is Jackie O. First ladies before and after her have never rivaled her sense of style until now. Michelle Obama is consistently outfitted with great style and flair. In fact her fashion sense is a common topic for the press.
If you want to dress like Michelle Obama, there are certain items that are simply must-haves for your wardrobe. As all fans of hers are aware, sleeveless dresses in bright colors are a signature look for the first lady. Such dresses must be accompanied by classic high heeled pumps. If a jacket is necessary, one that contrasts in color with the dress, but is the same length is the way to go. Vibrant colors like bright yellow, purple and green are great choices for a Michelle-like dress.
Mrs. Obama predominantly wears solid colors, however she is not afraid to opt for bold prints in bright colors. When wearing mix and match ensembles, she tends to keep the print on top and solid colors on the bottom to flatter her torso best. With separates and more casual looks, she also tends to gravitate towards ballet flats that have a little something special about them or kitten-heeled pumps for a classic look.
The first lady has done a great job of choosing clothes that show off her assets and camouflage those less-than-perfect areas. Many of her outfits are meant to draw the eye upwards. For this reason, many of the necklines on her clothes are unique and interesting. Princess necklines, single shoulder straps, scoops, V-necks and strapless tops all make for important additions to a wardrobe of Michelle styled clothes. Another interesting must-have is cardigans, especially ones with three-quarter length sleeves.
For those looking to emulate Michelle Obama's style, accessories are very important. She often wears big, unique earrings and impressive necklaces. She is especially fond of multiple strand pearls and other multiple strand necklaces that add interest to an outfit. To accentuate her waistline, the first lady often wears belts.
To dress like Michelle Obama, you must never shy away from color. You must definitely choose to accentuate the positive and downplay the negative. If you find that some of the first lady's looks are not the most flattering for you, opt for something else. There is definitely diversity enough in her wardrobe that you are bound to find things that are flattering for you and fashionable enough to give you that Michelle Obama flair.