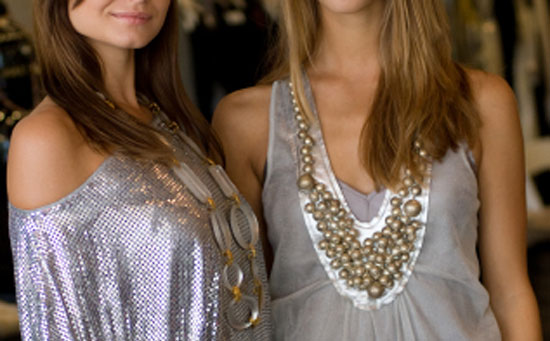 Metallics are unique fabrics and finishes that make for some unforgettable items of clothing. While for the most part, metallics are predominantly found in accessories like jewelry, belts, shoes and purses, they can also be found in clothing items as a part of the design or as the color of the attire. Knowing how to wear metallics will make your ensembles look great, help you stand out from the crowd and at the same time not be too over the top.
The number one rule of wearing metallics is to keep it to only one metal at a time. If you choose a bronze item, don't try to pair it with gold or silver. If you choose to wear a metallic look in any color, stick with that one color and don't try to put it together with other metallic finish colors. Also, avoid head to toe metallic at all costs. It is inevitably a look that will make you resemble a space alien.
Another of the most important things to remember when it comes to metallics is to keep it simple. Match one metallic wardrobe item with solid colors and simple fabrics. Resist the temptation to go overboard with accessories or prints. It will make you look too busy. Build your outfit around the metallic item, because it will inevitably draw the most attention.
Metallics are particularly good for certain occasions. Holiday wear and metallics go hand in hand as an abundance of metallic clothing items find their way onto the store racks during the holiday season. Trim for fancy dress is often done in metallic tones to add extra glitz and glamour. This type of metallic use is definitely not for everyday casual wear. When looking for special occasion wear, you will also find more metallic hues.
This is not to say that metallics cannot be found year round. In fact, some casual T-shirts can be found with metallic hues in the design. Such T-shirts are often seen as a little dressier than usual tees. In addition, metallic wardrobe additions are found amongst the more risqué items that one would wear to a nightclub. The junior section of department stores or certain boutiques that cater to college age and younger girls will tend to carry metallic items specifically for clubbing and special events.
One solid piece of advice about metallics is that if you are unsure about metallic clothing items, gravitate towards accessories that are metallic. They will add glamour to your ensemble and help pull an outfit together for a special occasion or just a night out. Metallic accessories are a safe bet that can easily be changed. You can quickly add or take them away from an outfit to completely change up the look you are trying to achieve.
Put your metallics knowledge to work for you as you put together your own style and your own outfits for everyday and for those special times. Add a little glamour to your outfits with metallic accessories or create a splash with a piece of metallic attire for that memorable event. Use metallics wisely and your wardrobe will thank you for it.