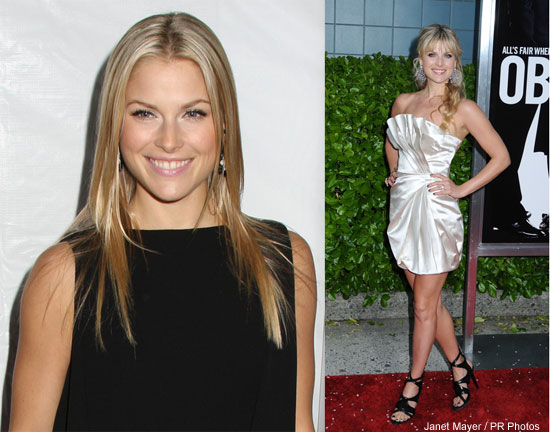 Ali Larter is a hot young star who is gaining a lot of ground on the fashion scene. She is known for her very, very deeply cut gowns that give her a signature style. If you want to dress like Ali Larter, you need to start with her low-cut look and build your outfit around your low-cut top or dress.

Dresses
When you think of the low-cut Ali Larter look, think extremely low cut. She rarely wears anything that is simply v-necked or scoop necked. She wears dresses and tops that are cut nearly to her naval. No everyone can accomplish this look. She doesn't wear a bra with her low-cut outfits, but for those who must, wearing a back or neutral-colored cami under the outfit can give the illusion of something that is low cut and still enable the wearer to wear a bra with the outfit.
Many of Ali Larter's dresses are often embellishes with small crystals or other shiny materials that are used to make intricate patterns. To get this look, find a deeply-cut dress that has a focal point on the front made up of sequins, crystals or metallic thread. If the front has a pattern made from the sparkles, it will be very much in Ali Larter's style.
Casual Wear

When Ali Larter wears causal clothing, she often likes to keep the sparkle of her dresses. Like those sparkly dresses, her t-shirts and casual tops are often embellished with crystals or other sparkly items. She even likes to wear overcoats and jackets that have crystals and sparkles. She has been photographed in two different brown suede jackets that were full of fun details.
If you want to dress like Ali Larter, make sure that every outfit stands out and can be seen sparkling in the sun or in photographer's lights. Either choose outfits that have jewels attached or create your own look by applying crystals to the front of your top or dress or the back of your jacket.
Jeans are another staple part of the Ali Larter look. She wears skinny jeans that are either tapered at the ankle or that are boot cut. The jeans are often in a dark blue wash and are always in good condition. She doesn't favor the torn jeans look that some celebrities like to wear.
When she wears jeans, Ali Larter often wears a tiny camisole to show off her figure. Often, she wears either a white or off-white camisole with lace at the top or lace at the bottom. To get this look, choose a camisole top that very thin straps and is made form a thin material. Many of her camisole tops are the button-front variety.
When wearing a casual Ali Larter outfit, pair it with metallic sandals. She often wears flat, gold sandals with her casual outfits. The sandals should be minimal in size and shouldn't have too many embellishments on them. To keep her look, let your outfit do the talking and let the shoes stay out of the spotlight.