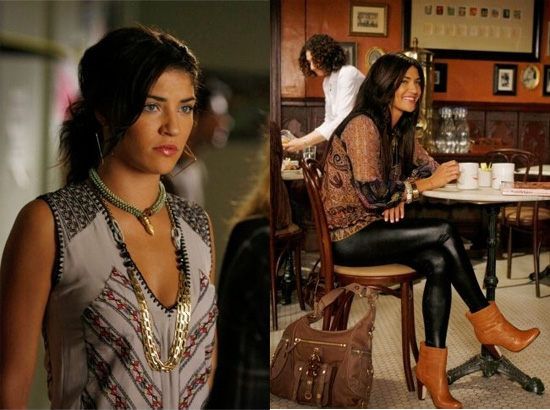 The television show Gossip Girl is one of the most watched on television today among teens and young women alike and one of the most popular characters on the show is Vanessa Abrams. On the show Abrams is an aspiring filmmaker and her films and her sense of style are quirky and fun. Her relatable character has gained her many fans that all wish to dress like her.
In the books Abrams has a shaved head, wears mostly black, and is slightly overweight but in the television series she is slim, has long wavy jet black hair and is anything but a drab dresser. Here are some of the ways to achieve the Vanessa Abrams look for television:
•    Pants: on the show Abrams likes to wear a lot of tights. She will always layer on top of these tights but she usually starts with tights and goes from there. You can either go with black tights or a darker color pair of tights that has some sort of low key print on it as Abrams wears both on the show.
•    Mini-skirts: one of the more popular layers that Abrams like to use over top of her tights is a mini-skirt. These mini-skirts should come down to just below the buttocks and can be made of denim or any other material. Depending on the rest of the outfit the mini-skirt you choose can be black, white, or any color in between. Usually the mini-skirt will be dark colored to match the tights, but sometimes they can even be worn as a standalone without any tights.
•    Shirts and tops: Here again Abrams likes to layer her clothing. To get this look start with a regular and fun t-shirt and layer that with a jacket of some sort. Abrams likes to wear longer rain coat style jackets that are typically darker colored in nature and she will usually keep them closed up but only doing so with the tie and not actually the buttons. This seems to be more for fashion instead of function.
•    Shoes: Abrams tends to go for the black leather ankle high heeled boots and you can help yourself nail the look by getting a pair. If you like you can go with a pair that features a collard part on top as Abrahams frequents these on the show. Because they are black you will be able to wear them with a number of different Abrams outfits.
•     Accessories: Abrams like big purses and in this department she likes to go on the colorful side. You can get any type of larger handbag you like to add some flair to your outfit and don't be scared of crazy looking patterns. Another big accessory that Abrams often sport is a scarf. Sometimes she goes with a solid color but you should feel free to go with a multicolored tie if you so desire as she has done both on the show. When choosing jewelry, go with bigger earrings like hoops and wear necklaces that tent to hang low.
All you will need now is that famous wavy jet black hair and you too will look like you just walked of the set of Gossip Girl.