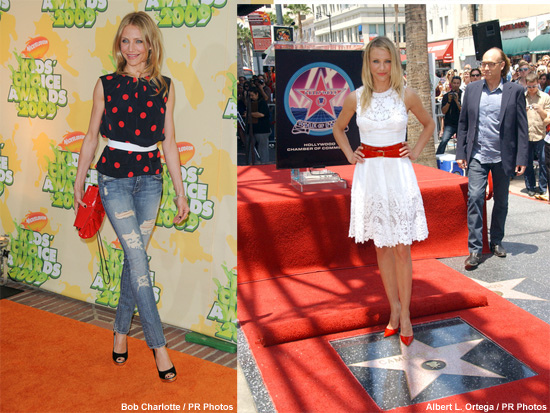 Cameron Diaz has a fun, causal style that always looks well put together without looking too fussy. She is the master pairing a few chic casual pieces together and making a complete look that flatters her tall, thin frame. To get Cameron Diaz's look, there are a few simple pieces you'll need.
Tops
Cameron Diaz knows that the top she wears should not be too tight and should look nice without looking formal. She opts for baggy shirts or shirts that are a size too large for her slender figure. She likes to wear light-colored tops, many of which are white. When she wears t-shirts, she keeps them interesting by choosing ones with a scooped neck or a v-neck. Sometimes she pairs a small, thin jacket over her t-shirt to complete the look.
Her dressy tops are often strapless or with tiny cap sleeves. She loves to wear dressy white tops when she's going to an event, and she pairs those with a straight skirt.
Jeans
Because she is so tall and thin, the skinny jeans trend was made for Cameron Diaz. Her jeans are always tight and usually are in a deep blue color. She keeps her jeans in good conditions, staying away from the torn jeans trends that younger actresses sometimes favor. To copy the look of her jeans, find a medium or dark-wash pair of jeans that are tightly fitted. They should be slim-fit jeans if possible and they should reach below the ankle.
Shoes
Part of Cameron Diaz's casual look is her many, many pairs of sandals and flats. She loves flats in bright colors and pastels. Sometimes she wears sandals in metallic colors, such as copper. She is often pictured in flats or low-heeled pumps in colors like bright yellow or pink. She prefers to wear simple shoe designs that work perfectly with her casual look. There are no fussy bows or other details for Cameron's shoes. Her bright, causal shoe choices give her outfit some color, but they don't draw too much attention away from the other items she's wearing.
Jewelry

Cameron Diaz always seems to be wearing beautiful, intricate jewelry. She usually wears a medium-length necklace and is often photographed with short, dangly earrings. Occasionally she will wear metallic hoop earrings instead of the dangly style. She prefers gold jewelry to other tones. Her necklaces are often thick and may have several pendants on them. This chic, breezy necklace style fits well with her jeans and t-shirts and creates a unique and individualized look for Cameron.
Accessories
Like many actresses, she loves large sunglasses and even larger handbags. She is often seen in cream-colored and pastel handbags that are worn over the shoulder. Occasionally she will carry a metallic clutch bag. For formal occasions, she is usually seen holding a tiny bag in one hand and has minimal jewelry. When out for a day of shopping, she opts for large, dark sunglasses that have thick frames and she carries a huge handbag to hold her shopping finds.