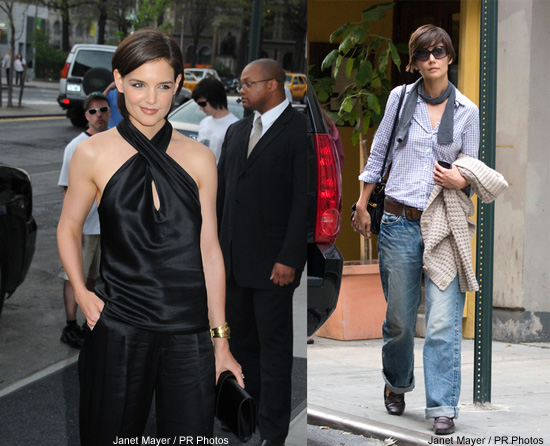 Katie Holmes likes to dress comfortably and stylishly with a few key pieces that seem to go with everything. Like many people who dress in classic shapes, she chooses mainly neutral colors and items that never go out of style.
Leggings
One of the main pieces that Katie Holmes is known for are her many pairs of leggings. She was one of the starters of this trend over the past few years, wearing leggings instead of pants and pairing them with long shirts and long, colorful sweaters. This 80s throwback can be worn in black or navy blue just as Katie Holmes wears. If you want this look, wear your leggings so that hey fit tightly, and pair them with a pair of matching flats.
Jeans
Katie Holmes often wears jeans when she is out with her daughter, shopping and taking her daughter out to play. The jeans she chooses are usually of the skinny fit that is so popular right now with most of Hollywood but Katie occasionally also wears baggy jeans.

T-Shirts
Katie Holmes wears a lot of t-shirt, both with her leggings and with her jeans. She favors t-shirt of all types, but she seems partial to white t-shirts. This gives her a retro look that is always in style.
To choose a t-shirt to go with a Katie Holmes look, find one that is understated in style. She often wears plain, one-color t-shirts that have no printing on them. When she wears a t-shirt that has a printed design on it, the design is usually small and not attention getting.

Skirts and Vests

Katie Holmes also wears a lot of skirts. She prefers to pair long tops with her skits or tops that are loose or layered. She is not into the form-fitting skirt look that many stars like to incorporate into their looks. When she has a meeting or a dressy daytime function to go to, she often wears a pencil skirt with a plain, loose top. One typical look for her is a white top with a scooped neckline and a straight black skirt that goes to about knee length.
Often Katie Holmes wears dressy slacks instead of a skirt when she has somewhere to go. Unlike her skirts, her pants are always skinny cut and fit her tightly.  One signature look for Katie Holmes is wearing a vest with a light-colored shirt and a dark skirt. To get this look, wear a vest that is patterned and coordinates with your skirt, and choose a simple skirt that won't take attention away from the vest.

Dresses

Katie Holmes really shines when it comes to her eveningwear. She loves to wear extravagant, show-stopping gowns to premiers and awards events. She has access to gowns from all the top designers and takes advantage of those connections. She wears a lot of Versace and Gucci dresses to events, but the Katie Holmes look can be had by wearing a strapless gown in a deep color. The dress should have plenty of details such as folds, layers and perhaps an asymmetrical hemline. This will give you the Katie Holmes look without paying for the top designs.