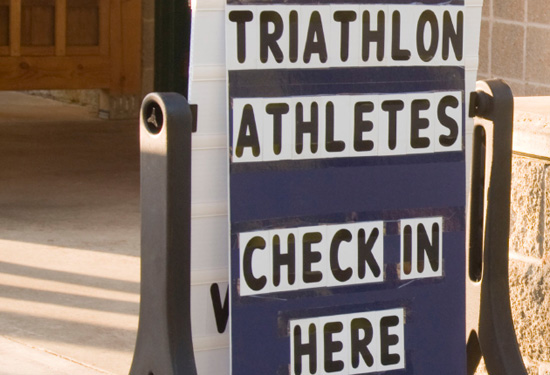 For a triathlon, it's important to wear clothing that will move with you, that will not make you hotter or keep you wet with sweat and that is appropriate for each of the three events that will take place.
Wearing One Outfit

If you are planning to wear the same outfit throughout the event, there are a few items that can be perfect for doing all three. This will decrease your time because you will not have to indulge in two changes of clothes. There are shorts that are made for wearing to all three events. These can be either trunk-style shorts of form-fitting bicycle-style shorts. These are generally made to stay put to prevent the discomfort that riding up can cause.
Special triathlon shorts may look much like bicycle shorts, but they are actually made quite differently. While bicycle shorts have a little bit of padding in the seat to make riding more comfortable, triathlon shorts don't have this feature. The padding of bicycle shorts can make running and swimming less comfortable.
Wearing Two Outfits

Another choice is to wear the same outfit for the bike and running portion of the triathlon and to wear a different outfit for the swimming portion. This may be important if you are swimming in the winter and you need a wetsuit to keep you warm in the frigid water. A proper wetsuit is form fitting and insulated to help you to retain some body heat as you swim.
A wetsuit is an important way to get your swim time lower. Wetsuits are made to be buoyant which can help you to swim faster. They are also important for keeping your muscles warm if the water is anything less than ideal temperatures. They can be worn over the other race wear to save time, but they do take some time to put on and to remove. You may also need some assistance in putting on your wetsuit, so plan for help if you wear one.
The biking and running outfit can be a stretchy pair of shorts or pants and a t-shirt or a stretchy sports shirt. There are also one-piece outfits that can keep the wind away from your skin while allowing you to move freely. Many of these are made especially for triathlons. These outfits may be a little trickier to change into and out of, but they provide little wind resistance while you are biking and they can wick the sweat away from your body as you are running.
Shoes
It's important for a triathlon to have shoes that fit perfectly and that will work well for biking as well as running. Some people do change their shoes in between the biking portion and the running portion, but there are shoes that can do both admirably. Choose shoes that grip the road as well as your bike pedals with enough padding to keep your joints from aching during your run. Never wear brand-new shoes to a triathlon. You may end up with blisters before the first mile is completed.