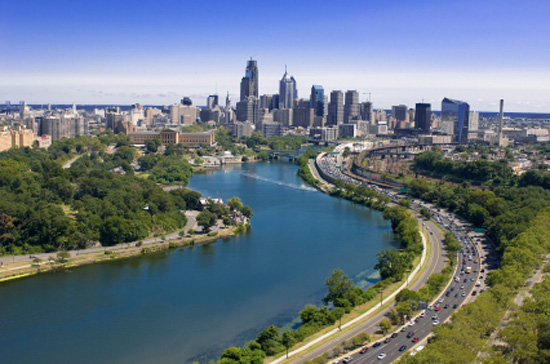 Philadelphia is amongst the 6 largest cities in the United States. It is richly steeped in the history of this country. In the early part of American history, Philadelphia was the largest city in the original colonies. Many pivotal decisions were made there and have been commemorated there as well. Philadelphia is a popular tourist destination due to its importance in this country's growth and development.
The City of Brotherly Love is located on the East coast of North America. It has a mercifully short winter which is snowy but typically mild. The summers have average daytime temperatures of mid to upper 80s. Spring and fall, like most parts of the U.S., are wonderful seasons for travel. The temperatures then make it easy to pack for Philadelphia, whereas winter especially requires more attention to packing warm clothes.
Philadelphia is very much a laid back city. You can easily spend a vacation there and never need to dress up. If you just plan on taking in the tourist attractions and eating genuine Philly specialties like soft pretzels, cheese steak sandwiches, hoagies and scrapple, you can easily bring along your casual clothes and never feel out of place.
In terms of the business world, many of the city's workers work in manufacturing, food processing, tourism and oil refining. However, there are also a large number of government offices, financial services, medical research and biotechnology. Since there is such a wide range of major industries in the city, if you are coming for business, you should learn how those who work for the company you will visit dress for work. This will provide a good guideline as you pack for Philly.
Philadelphia is a huge sports town with sporting enthusiasts everywhere. There are a myriad of professional sports teams in the city including hockey, football, baseball, basketball and other teams. In terms of fashion, this means that any time a Philadelphia team is playing or doing exceptionally well its season, the team colors and clothing with team logos will be seen everywhere. On certain game days, many employers even allow their employees to wear their team clothes. If you are in Philly for any sporting event or are heading to a sports bar or other casual place, a team shirt is a great choice in clothes.
Many big name music artists are from the Philadelphia area. In fact, quite a few hip hop artists are from the city. Hip hop is very popular there and many fashion trends influenced by the music genre are commonly seen.
Over 120,000 college students go to school in Philadelphia during the academic school year and over 300,000 in the Philadelphia Metropolitan region. What this means is that trends which are popular with college aged students are often seen around the city. If you like some of the younger, trendier fashions, Philadelphia is the place to wear them.
Get your Philadelphia look ready now and visit one of the most historic cities you'll see in the New World.