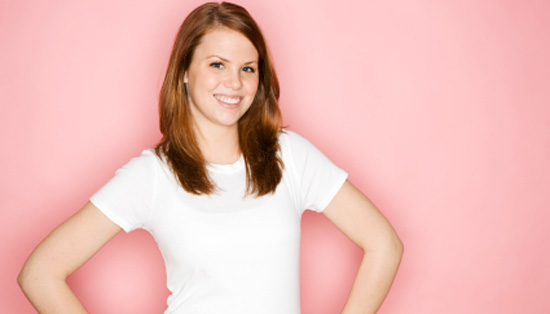 Everyone has a different opinion about clothes. Some people think that anything and everything is fine to wear. Others have very specific beliefs about what is appropriate and what is not, especially when it comes to fashion. Still others believe that in some situations strict standards are necessary, while other situations are really a case of anything goes. For anyone who is wondering if T-shirts are ladylike, there are many things to take into consideration, not the least of them being the situation in which someone is wearing the tee.
There are some people who believe that T-shirts are not ladylike. However, for the most part, people today believe that T-shirts are as ladylike as any other item of clothing, especially since there are so many styles and looks to make certain T-shirts feminine and distinctively ladylike compared to other tees. Choosing a woman's style T-shirt leaves no doubt in anyone's mind about whether or not a T-shirt is ladylike.
T-shirts used to be simply unisex, meaning that the same cut of T-shirt and the same sizing would be used for both men and women. Often women would almost float in a T-shirt. However, luckily with time fashion changed and now there are T-shirts made just for women, even though sometimes they still opt for the unisex T-shirt or even a man's tee. Many things make a T-shirt appear ladylike.
Some of the things that successfully help a T-shirt look as ladylike as they should include the following:
•    Color: Feminine colors like pink, purple and pastel colors are distinctively ladylike.
•    Girly Prints: T-shirts that feature feminine looking things or are full of flowers and other girly stuff definitely contribute to tees that are ladylike.
•    Neckline: Women's T-shirts come in a wide variety of decidedly feminine necklines, like scoop necks, square necklines and princess necklines, in addition to the traditional crewneck and V-neck ones.
•    Cut and Style: T-shirts made for women are usually shorter, have properly fitting shoulders and shorter sleeves. They are also more fitted and have a softer line. They also come in a much wider range of options.
•    Design: Designs that are feminine also make T-shirts seem ladylike. They include snappy remarks, jokes, provocative lines and cutesy graphics.
Custom-made T-shirts are a great addition to any wardrobe. They can be made as ladylike or not as you want. The many things you get to choose from include color, style, fit, quality, cut, necklines, fabric weight and of course, the design you want on your T-shirts. Below are some great suggestions for ladylike T-shirts.
•    It's a girl thing.
•    Didn't your mother tell you that fighting is unladylike?
•    Girls rule
•    Hip chicks do wine
•    Put on your big girl panties and deal with it
•    Everyone loves an American girl
•    If Mommy ain't happy, no one is happy
•    I'm the Momma, that's why
Get your ladylike custom-made T-shirt today and never question your T-shirt again.