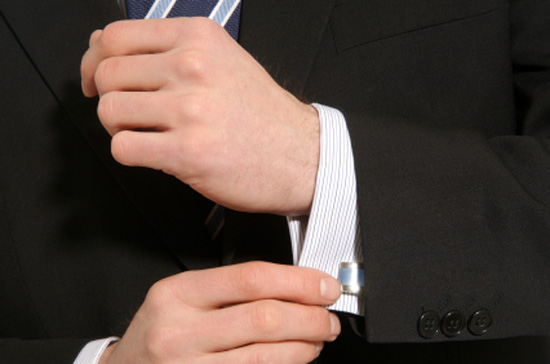 Cufflinks are usually worn on a formal occasion with a formal shirt and because they come in such a wide variety of styles it is extremely easy for you to be able to express yourself and stand out at a formal event as well. Many people shy away from cufflinks because they simply don't have any idea of how they work and may have the impression that they are too hard to work with. Nothing could be further from the truth.
Mastering the cufflink is as easy as mastering the swivel post. Once you get that the rest is gravy. You will know what a swivel post is as soon as you see it. It will be on the underside of the decoration of the cufflink and will 'swivel' open to form what looks like the letter 'T.' Here is how to properly wear cufflinks:
•    Put the formal shirt on: Start by putting your formal shirt on and then lining up the cuffs. You don't want the cuffs to overlap in the way that a button cuffed shirt does but instead you want the cuffs to be back to back.
•    Slide the cufflink in: Once the cuffs are aligned you simply slide in the cufflink and when it has gone through both cuffs you open up the swivel post of the cufflink. This will form that 'T' and securely hold the cuff in place.
•    Check the face: Once you have both cufflinks secure be sure that the decorative face is out as that is the part that everyone will see. If the decorative face is to the inside then you are defeating the entire purpose of the cufflink.
When should you wear cufflinks?
There is no hard and fast rule as to when you can and cannot wear cufflinks. Traditionally they are reserved for the most formal of occasions such as weddings where a tuxedo is in order and they are still the norm at these types of events today. But the popularity of these decorative pieces has opened up the world of cufflink wearing.
Many people like to wear a pair of jeans and a nice shirt that uses cufflinks for a simple night out on the town. This is great because you can really express yourself with the types of cufflinks you choose. Today cufflinks can be found in many styles which include gems and other decorative fashions. To a great extent, the type of cufflink you wear says a lot about your personality.
Others that are in a more professional environment of work, such as lawyers and stockbrokers can find themselves wearing cufflinks on a more frequent basis. These people tend to wear cufflinks to look a bit more sophisticated as opposed to trying to express themselves.
For the most part though cufflinks have hit the mainstream and there is really no time that wearing a nice pair isn't appropriate unless you are at the beach or the pool. Because wearing them is really as easy as one, two, three, once you start wearing them you will never want to wear a shirt with buttons on the cuffs again.