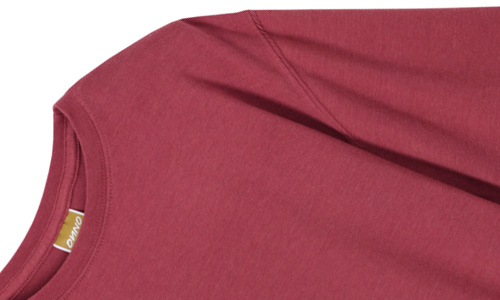 Bamboo clothing is taking the market by storm. This relatively new product, that has only been available for less than 10 years, is garnering a lot of excitement, especially from those who are concerned with the environment. The discovery of a way to turn bamboo into a yarn for clothing production means that there is now a new all-natural alternative to cotton. Like cotton, it is a breathable and natural fabric that is soft and comfortable to wear.
Caring for bamboo T-shirts and clothing is pretty straightforward.
•    You can machine wash and dry bamboo clothes on the gentle cycle. It is recommended that you remove them from the dryer as soon as the cycle is done. Some data suggests that bamboo can be fragile when wet, so care should be taken.
•    When washing, use mild detergent and no fabric softener, as harsh chemicals can damage bamboo.
•    For this same reason, never use chlorine bleach on bamboo.
•    Use cool or warm water when washing such items. Only items that have a higher blend of cotton in them should shrink. Shirts fabricated from only bamboo should not.
One of the major benefits of bamboo clothing is that the production of it has a much milder environmental impact than cotton or any other textile. Bamboo is like a grass and continues to grow without needing a period of replanting and waiting. It needs to be cut periodically, much like grass, and thrives from being cut back. Using the fibers from the bamboo plant to create textiles is a logical, natural step. Another plus is that bamboo fabric is naturally antibacterial.
If you care about the environmental impact of the production of the clothes you wear, switching to bamboo T-shirts and clothing is a great way to lessen your carbon footprint. There are multiple sources for finding great stylish clothes made of bamboo. If fact, you can even get custom-made bamboo T-shirts. You can order a bamboo tee in the color and style that you want and, like regular T-shirts, have anything you want printed on it.
You can use your new bamboo tee to educate those around you about the use of bamboo T-shirts and clothing. A good way to do this is to have tons of informational points about the use of bamboo clothing on a T-shirt. You can also simply put a clever phrase like "Got bamboo?" or "Do you bamboo?" on a T-shirt to bring attention to it. You can also just personalize your new bamboo T-shirt in any way you want. You can have a joke printed on it, a great photo, bragging rights or your cultural heritage. You can also have special event T-shirts made up for something you are organizing. Just remember to share with those who receive the T-shirts about what makes them different and how to care for them.
Get your very own custom-made bamboo T-shirt today and stand out from the crowd by the environmental impact that your clothes make.