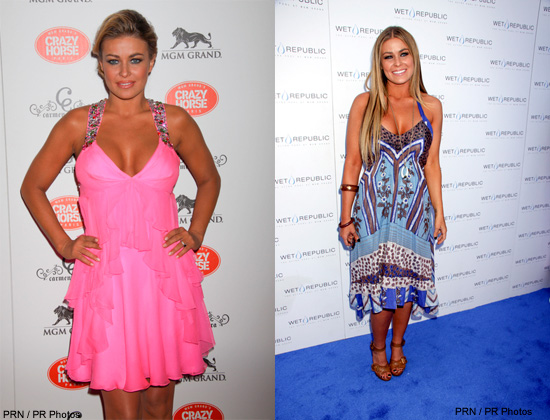 Carmen Electra's style is bold and eclectic, and she enjoys experimenting with many different looks. Widely known for her sexy body, Carmen plays up her best assets with fashions that are flirty and fun.
Carmen Electra has worked many years to earn her celebrity status and hone her fashion sense. She started out at the very bottom of the star list, working first as a model, dancer and entertainer. In the early 1990's she was discovered by Prince, who convinced her to change her name (she was born Tara Leigh Patrick) and record a solo album under his record label. Her singing career was short-lived however, so she next moved to television appearances. It was her appearance in Playboy magazine in 1996 that sparked the rest of her career, including her role as a "Baywatch" babe and numerous movie, magazine and ad appearances.
As a former model and entertainer, Carmen is always fashionable and can be found wearing the hottest designers whether glamming it up on the red carpet or running errands around town. Her sex symbol status allows her to pull off looks that most mere mortal women would never dare.

Dresses. One of the most obvious characteristics of Carmen Electra's style is her ability to rock any dress. She loves flaunting her toned body with figure-hugging dresses that accentuate her curves, such as a Herve Leger vintage number.
If you're going for a Carmen Electra look, you should also consider going short. Many of Carmen's dresses have very short lengths to show off her sculpted legs. She isn't afraid to slip into unusual fabrics either, and her dress wardrobe includes an impressive array of colors, fabrics and textures. She has fun with metallics, sparkling sequins, bold prints and bright colors.
Recently Carmen has been spotted in a new fashion trend, the maxi dress. This elegant Rebecca Taylor maxi is a great example of the style. The low neckline of the maxi emphasizes Carmen's considerable cleavage, while offering an elegant draped skirt that's also super comfortable.

Platform shoes. All those cute dresses Carmen wears scream for fabulous heels, and she definitely knows how to work them. The higher the better for this petite lady, and platform heels (especially those designed by Christian Louboutin) are a favorite choice when she's on the red carpet. Heels aren't the only pick for Carmen though. She's also been known to don vintage sneakers, thongs and gladiator sandals for more casual affairs.
Tracksuits. Like many Hollywood starlets, Carmen likes to slip into comfy and casual tracksuits from Juicy Couture. The cool Juicy graphics on the pants also draw attention to her perfect butt.
Graphic tees. Carmen is often spotted sporting a chic, vintage-inspired graphic tee from a hot designer or one of her favorite bands. This is a look that any budget can afford, so find one you love and rock on!
Physical fitness. Carmen carefully maintains her famous figure with an exercise regimen of strip aerobics and pole dancing (she recently debuted her own line of products for these techniques). If you plan to adopt Carmen's flirty look, hit the gym to be sure you are tanned, toned and can rock every outfit just like she does.