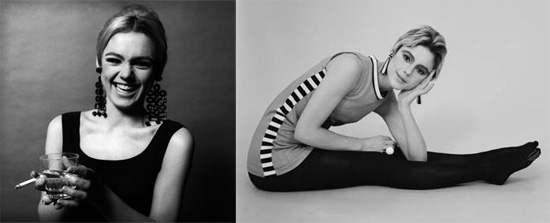 Edie Sedgwick was the girl in the 60's that everyone wanted to be. She was an inspiration to Andy Warhol as well as to millions of girls who wants to dress just like her. Her style was eye catching and new in its time, and it's still a look that gets noticed today.
Black Tights
One of her most signature pieces were her always-present black tights. The tights were such a part of her look that it became what she was best known for. Luckily, her signature black tights are easy to find. She wore opaque black tights much of the time, but she also wore sheer black tights. She wore them so often that she created a fad for them in the 60's and was sometimes called "The Girl in the Black Tights." Pair anything at all with black tights and you're channeling her look.
Black and White
Much of her look centered on combinations of black and white. The look was about blocks of color as well as stripes, and usually everything was black, white or both. She was a dancer who loved to wear her leotards on the street after dance practice. She often wore black leotard tops with black or black and white miniskirts and her black tights.
Skirts

Most of her clothing was short- dresses, shorts and especially her skirts. In true 60's style, Edie Sedgwick had a different miniskirt for every day of the week. She preferred black and dark gray for her miniskirts, and she wore them as short as possible. In some pictures of her, her miniskirts are so short that it's hard to tell that she's wearing one at all. To get that look, there are micro-miniskirts that will be the right length, or you can hem up an already-short skirt to create your own.
Dresses
Edie Sedgwick loved to wear simple sheath dresses that were loose flowing and that could be paired with anything. The practical part of this is that a sheath dress can be dressed up or down and they are generally inexpensive. Choose a black, white or striped sheath dress for a true Edie look. The sheath dresses, of course, were always worn short. They should be midway between your knee and thigh in order to capture the look.
Boat Necks
Edie usually wore shirts and dresses with boat-necks in order to show emphasize her long neck. This makes any outfit a little more fun and can be flattering for many people. Choose a striped shirt with a boat neck for a little bit of eye-catching flair.
Earrings
Edie was known for her huge earrings almost as much as for her black tights. She loved big earrings that were long enough to touch her shoulders. The more elaborate and heavy the earrings were, the better. The earrings were always dangly, with plenty of movement to catch the eye. They can be plastic or metallic, but they must be big in order to capture the essence of the Edie Sedgwick look.