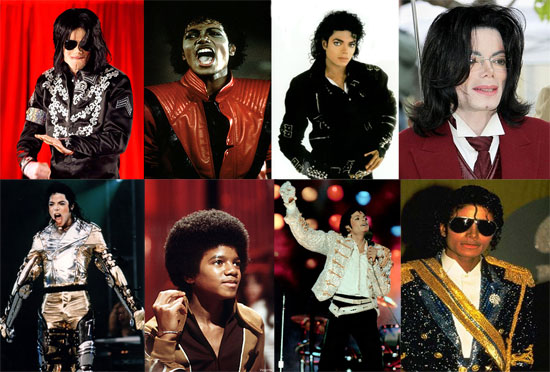 Michael Jackson's untimely death has reminded the world of his many contributions to music as well as to fashion. Though Michael Jackson is gone, his music and his style will live on.
Iconic Outfits
In the 80s there were several looks that Michael Jackson created and introduced to his legions of fans. One of his most iconic looks was the red leather jacket with black diagonal lines that formed a V-shape in the front. The jacket was worn with matching red pants and black loafers. This outfit can be copied by choosing a loose red leather jacket and wearing it with red pants that match the jacket as closely as possible.
In the 90s, he became known for his long black jackets and matching black pants. Unlike the loose red jacket, the black jackets were worn in a form-fitting cut that fit tightly on the arms. The jackets often had some military styling such as large gold buttons down the front, epaulets or military-style scrolling embroidered at the cuffs. Other black jackets had black sequined details.
A black fedora was often worn with the outfits, particularly with the black and white outfits. For an outfit that instantly recognizable as Michael Jackson's style, wear a black or red jacket with black pants and black shoes. Air the outfit with a black fedora with a white band around it.
White T-Shirts
Michael Jackson often wore a plain white t-shirt under his jackets or alone without a jacket. A common outfit of his was a pair of straight black pants, a white t-shirt and black loafers. When the t-shirt was worn under a jacket it was sometimes a crew neck t-shirt. But most of the time, he wore a plain v-neck t-shirt with or without a jacket.
Socks and Glove
One of the most recognizable aspects of Michael Jackson's outfits are the white socks that he always wore. No matter the color of the pants, pair a Michael Jackson outfit with either plain white socks or white socks with a slight silver sparkle to them. Wearing a black suit with black loafers and bright white socks is a classic Michael Jackson look.
In the 80s, Michael Jackson earned himself the nickname "The Gloved One" because of his trend-setting single glove. To get the look of his glove, wear a glove on the right hand. The glove should be white with lots of rhinestones or silver sequins on it to give it some sparkle. His stage gloves had sparkles only on the back side of the glove to make it easier to hold a microphone while his appearance gloves had sparkles all the way around. Either type will evoke the style of Michael Jackson.
Armbands
Most of his outfits over the past 20 years have featured an armband tied around his right around halfway between the shoulder and the elbow. To get this look, wind a piece of fabric in a contrasting color around the right arm. If the shirt or jacket is black, wear a red or black armband. If the shirt is white, wear a red or black armband.