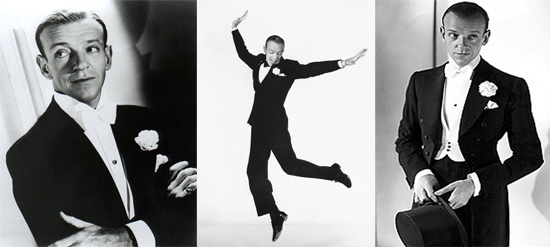 It is hard to say the word dance and not think of Fred Astaire. His brilliant career spanned over seven decades and saw him performing on the stages of Broadway all the way to the Silver Screen. Even today, many years after his passing, there are countless Fed Astaire Dance Academies that teach people from all walks of life to be just a bit lighter on their feet.
When it came to style, Astaire had one all his own. He was never seen in a casual dress and usually sported a tuxedo or a classic suit. Some even joke that he probably slept in his tuxedo but the probable reason behind his always impressive dress is that he was a true gentleman and always wanting to look his best. To dress like Astaire, you too have to look your best:
•    The suit look: Wearing a suit was about as casual as Fred Astaire ever got. When you choose your suit make sure that it has a classic and comfortable fit. The undershirt should always be long sleeved and white. The pants should have a crease in the middle and should come down to the laces or top of your shoes. The jacket should also be a classic cut. If you go with a jacket that has fancy lapels you will be missing the look. Astaire always wore a classic cut regular looking jacket. As for the colors, stick with dark. Astaire had been known to occasionally wear a white suit but for the most part he was always wearing a darker color. This was accentuated by the black and white coloring of the movie screen in the days before color so if you wear a suit that is too bright, the effect will be lost.
•    The tuxedo look: Because he was such a revered actor Astaire was often seen at all of the gathering of the who's who in Hollywood. Because of that fact Astaire was often in a tuxedo. Choose your tuxedo by going with the most classic look that the tux shop has to offer. Always go with black and make sure that the tux shirt is of course white. In classic form Astaire always finished off his tuxedo look with a small bow tie.
•    Shoes and ties: This is about the only spot on Astaire's wardrobe that allows you to have any changeability. For shoes Astaire mostly wore classic black shoes with laces, but there were times that he did wear black and white saddle shoes with laces. Getting a pair of saddle shoes could help you to spruce up the look just a bit without straying too far from the formula. He also wore a variety of neck ties. Now this only applies to the suit look, but Astaire wore all sorts of neck ties and anything from a bow tie, to a polka dot tie to a solid color tie will do the trick. Be careful not to go too modern with the color and stay far away from pastels.
All that remains for you to complete the Fed Astaire look is to get a walking cane and a top hat if you so desire, put a spring in your step, and get really good at whistling while you walk.