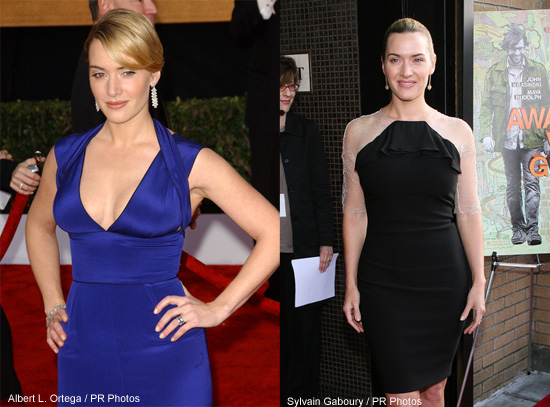 Kate Winslet is known for dressing to flatter her curvy figure. Unlike many Hollywood actresses, she emphasizes her curves instead of trying to hide them. No matter what she's wearing, she always looks feminine and her outfit is always in tune with her body shape.
Evening Wear
Many of the famous looks that Kate Winslet has worn are her glamorous evening gowns that are sophisticated and stylish. The dresses are often floor-length dresses that are in unusual colors. Though she sometimes chooses a back dress to wear to an event, she more often chooses bright yellow, a bright, spring green or light gray.  To get her look when you have an important event to attend, look for a dress that has a lot of elegant draping. It may have a broach or anther element to hold elaborate draping in place.
The dress should also have an interesting neckline to bring the eye upward. She often chooses a dress that has a defined waistline that sits at her natural waist in order to show off her curvy hips and smaller waist. The most important factor in finding a good Kate Winslet dress is to choose one that fits extremely well, or to have one tailored to do so. She always wears dresses that fit her like a glove without being too tight or too loose.
Shoes
Like most of Hollywood, Kate Spade is a big fan of high-end designer shoes. Manolo Blahnik and Christian Louboutin are favorite shoe designers. Louboutin shoes have a bright red sole, making them stand out from other shoe brands, Whatever shoe brand you choose, make sure the shoes are pump-style heels that aren't too high for you to walk in. It would be hard to have Kate-style confidence if you don't feel confident walking in the shoes.
Jackets
To dress up a comfortable, casual outfit, Kate Winslet sometimes wears a dressy fitted jacket with a casual top in a pastel color and a pair of simple slacks. This simple outfit can be done in black and white or in pastel shades to get Kate Winslet's look. Like a dress that is Kate Winslet style, the jacket should be well tailored and have a length that is complimentary to your figure.
Accessories
Kate Winslet doesn't wear the huge purses that many celebrities are carrying these days. Instead, she favors small clutch purses that won't interfere with her outfit or call attention to themselves. Choose a small purse that matches the color of your outfit so that your purse doesn't stand out too much.
Another type of accessory that she favors is elegant necklaces. To find one that matches her look, get a necklace that is small, simple and gold in color. If you want to wear earrings, choose either long, dangly earrings that sparkle or gold hoops. Choose a necklace or a gold bracelet and matching earrings, but don't wear all of it at the same time. Kate Winslet likes to keep her accessories simple and few.