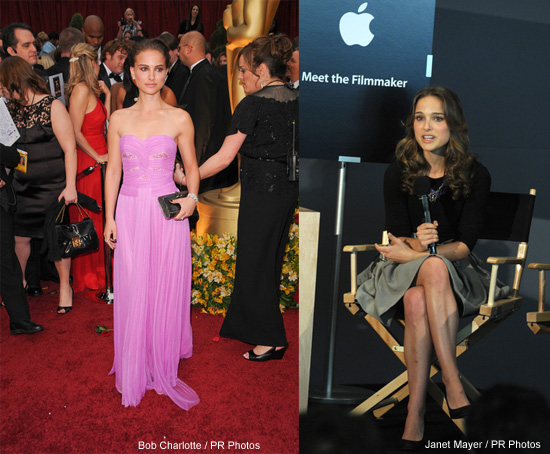 Natalie Portman has been an actress since 1994 and has gained much acclaim for her role as Padme in the pre-quill series of the Star Wars saga. Portman is an unbelievable beauty and she looks great no matter what she wears. While she can definitely hang with the best of them on the red carpet, Portman also knows how to dress down but still look great. Even though Portman was not born in the United States, she has an image of the All-American girl and she pulls it off flawlessly.
Women everywhere want to mimic her style and fashion whether it is for being casual or going out for a night on the town. Here are some ways that you too can achieve the look of Natalie Portman:
•    Going casual: When Portman takes the casual route she really commits. She is often seen in some nice jeans and either a cool looking tank top or a regular t-shirt. When you go for this look, be sure to stay with darker blues for the jeans and mix and match the tops with darker colors like reds, browns, and blacks. Be expressive with your t-shirts and don't be afraid to get ones that have cute sayings on them. One of Portman's favorite t-shirts that she wears is a play on words form the movie Star Wars. The shirt is a simple black t-shirt that says 'Stop Wars.'
•    Formal: Portman goes tight and short for these types of occasions. Of course she has the body for it, but she always opts to wear dresses that are either strapless or that at least expose her shoulders. At times she even exposes a tasteful amount of cleavage. Like her casual wear, she tends to stick to reds, blacks, and other darker colors.

•    Shoes: Portman is almost always wearing heels. Sometimes the heels will the open toe type and sometimes they will be closed toe, it just all depends on what outfit she is wearing. Choose your shoes by outfit and of course make sure that the color compliments what you are wearing.

•    Accessories: Portman doesn't seem to be a big fan of accessories. She is rarely seen wearing any except for a pair of earrings. She does at times wear things in her hair like head bands and scunciis to help hold her hair up on a casual day but other than that there is really nothing.
•    Hair and make-up: Portman is about 50/50 on whether she wears her hair up or down. She always seems to be styling it differently, so just go with a style you are comfortable with and that you know makes you look amazing. Portman pulls of the natural beauty look without any problems and doesn't generally use a lot of make-up. Be sure to go light with your application and never choose a dark color lipstick as this will ruin the illusion.
Whether you are just hanging out or going out for an evening on the town, dressing like Natalie Portman will always have you looking you absolute best.