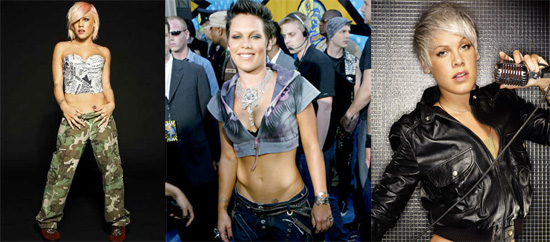 Since 2000 Pink has been putting out albums and rocking the music charts with her unique style of music. Her flair for music is almost as wild as her flare for dressing and when it comes to the way Pink dresses, there is never a dull moment. Her fiery attitude and self-reliant image makes her the envy of many women who would like to dress like her and be like her as well.
If you want to dress like Pink then you have to be ready to get a little bit crazy. On her most normal day of fashion Pink can be more outrageous than most on their wildest day. Here are some ways that you can achieve the Pink look:
•    Pants and shirt look: Pink often wears a combination of pants and a shirt when she performs on stage. Her pants consist of loose fitting cargo pants and her shirt is always one that shows her stomach. Her color combinations can vary greatly so here is your opportunity to have some fun. You can mix camouflage cargo pants with a black top or black cargo pants with a loud and colorful top, it's really up to you and your mood. Footwear for this combination can consist of combat boots or high-top sneakers but leave the high heels in the closet. Accessorize the look with a number of flashy necklaces and be sure that you have on some bracelets too.
•    Dresses: Another way to pull off the Pink look is to wear one of her favorites; a dress. Pink likes to wear a wide variety of dresses but her favorite is the kind that is tighter on the top and widens out at the hips and get poofy. With these types of dresses there is almost always some pink in them perhaps to honor her name. She is also fond of the tighter fitting dresses in darker colors and always wears fishnet stalking to compliment the look. With the dresses you can feel free to pull out those wild high hells you have been saving and wear them to your heart's content. Accessorize with sashes and belts if you like and wear some bracelets, earrings, and necklaces that grab attention as well.
•    Hats: No matter what type of Pink look you are going after you can add to it with a hat. Pink likes to wear a lot of different types of hats and can be spotted in derby hats and baseball hats too. Wear your baseball hat with the bill to the side to achieve the perfect look.
•    Hair and make-up: Pink typically wears her hair short and gives it a lot of attitude. You can do this by spiking your hair in certain places and simply messing it up in others and getting some firm holding gel to help you keep it in place makes the process a whole lot easier. A nice touch is to put some pink highlights in your hair as Pink does this quite often. For your make-up go heavy or light depending on your mood because Pink goes heavy at times and ultra light at others.
To complete the illusion, become a vegetarian and join PETA and you will all set.