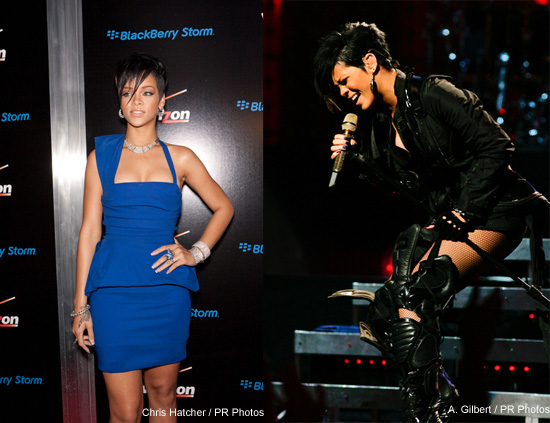 Rihanna is known almost as well for her amazing outfits as she is for her spectacular singing voice. For Rihanna, no day is a day to wear something ordinary. To get her look can take some effort, but the look is a trendy, fun expression of fashion and color.
Shoes
Anyone who has seen a picture of Rihanna probably noticed her trend-setting shoes. She is a big fan of very tall shoes and boots, especially ones that have lots of straps and laces. Many of her knee-high boots have straps that run horizontally all the way up to her knee. Other shoes are lace-up style, with laces running up to her knee or higher. On her more casual days, she favors expensive equestrian boots that reach just below the knee. For some occasions, she has worn thigh-high black leather boots.
Dresses
Rihanna's dresses are ones that always get attention, no matter where she goes. She favors bright metallic fabrics and unusual dress shapes to get that attention. For a dress that screams Rihanna, get a short dress with a metallic bubble skirt or pair a metallic top with a bright and clashing metallic skirt. Rihanna never worries about her colors matching, so choose any colors you like. When choosing a short dress, make sure that it has a full or bubble skirt.
When Rihanna wears long dresses, she chooses dresses that have plenty of details. She wears long dresses with very full skirts, plenty of ruffles and a lot of different shapes. A dress with a large side bow or a dress that is otherwise asymmetrical will be perfect for putting together your Rihanna look. Choose either metallic dresses or bright colors that are as eye-catching as possible. Though she sometimes wears a black dress, she more often opts for bright yellow, daring blue or a lush spring green.
Accessories
For a Rihanna daytime look, always add a pair of large sunglasses to the outfit. She likes tortoise-shell frames, and often wears Louis Vuitton sunglasses. Along with her signature sunglasses, Rihanna wears plenty of jewelry. She often wears many gold bangles on one or both arms. She often wears several gold necklaces as well. To get her look, wear plenty of thin bangles and match them to two or three gold chains. These can be with or without pendants- Rihanna wears them both ways.
When choosing a handbag, think big. Rihanna follows the Hollywood style of carrying a very large handbag. Hers often have short straps and are in either light neutral colors or metallics. If you are putting together a metallic Rihanna outfit, choose a silver or copper purse to wear with it.
T-Shirts
Rihanna does wear t-shirts occasionally. She likes bright green sleeveless shirts as well as colorful t-shirts with printed pictures. One of her famous t-shirts is a black t-shirt printed with Betty Boop on the front. Pair a t-shirt with a tight pair of black jeans and a thin metallic belt and you've got Rihanna's casual look.