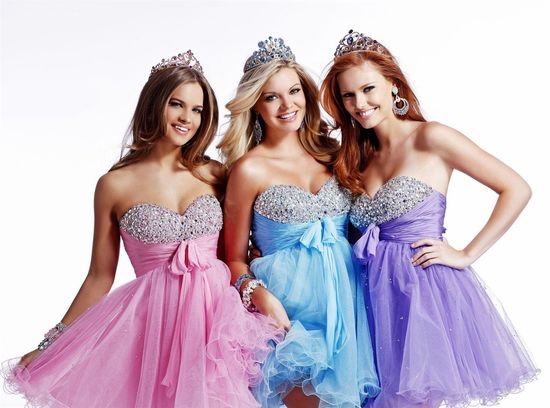 Many young girls dream of the day when they will go shopping for their prom dress. Even before dreams of a wedding dress ever enter the picture, most pre-teen and teen girls swoon over photos of the perfect prom dress. In fact, many girls start looking at dresses and planning for prom long before they are actually old enough to go to prom. When you go looking for a prom dress it is important to know exactly how to pick out the perfect one for you.
The first thing to do is to look at a variety of pictures of different prom dresses and find the types that most appeal to you personally. You may love shorter dresses or have a soft spot for long flowing gowns. You might be attracted to ruffled dresses with lots of flowery details and fancy touches. You might be most in love with simple elegant sheaths. You may find that soft romantic shades are what appeals most to you or it could be a bright, stand-out-from-the-crowd color. A very modern look may be the dress of your dreams or maybe even a classic gown that looks handpicked from history. Before you ever begin to shop for your prom dress, you need to have a definite idea of the type of gown that appeals to you most.
There are however a variety of other things to take into consideration in the choosing of your ideal prom dress. You will need to decide on a flattering color for your gown. Learn as much as you can about matching your complexion with the right clothing colors. This will guide you in your choice of the gown of your prom dreams. Choosing the wrong color can totally throw off your whole look. If you have a ruddy complexion and choose a red dress, you will find that your complexion looks worse than usual. If you have a fair complexion and light hair and you opt for white or pale pastels, you will look washed out and ghostly. Choose a color that flatters your hair and skin tone.
Your body shape will also determine the type of dress you should choose for prom. If you are very thin and small breasted, you will want to avoid strapless dresses and other looks that draw attention to your chest. If you have wide hips you will not want to wear a dress that has extra material and details in the hip area. If you are heavyset, you should chose classic lines, avoid too much extra detail and possibly select darker colors.
One of the key things in picking out your prom dress is to take the time to try on a variety of dresses. By doing so, you will find out exactly which colors look best on you and which styles best flatter your body type. Even if you eventually buy a dress online or from a catalog, it is important to spend time trying on real dresses so you can learn as much as possible about what you truly like and dislike in a prom dress.