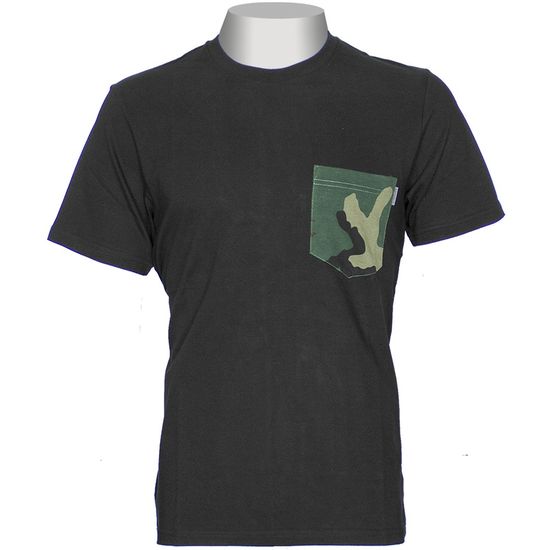 Fabulously Functional Pocket Tees
The pocket t-shirt, or pocket tee, is one of the most wearable garments you can have in your wardrobe. That's why, regardless of what the trends are doing, you can still find these comfy staples hanging in the closet of 90% of modern males. Despite its simplicity, the right pocket tee can be remarkably versatile. It can act as a base layer for a casual jacket or even a sport coat during cool weather, then be worn alone or with a vest during the summer months.
The pocket tee is a cut above a plain undershirt as far as sophistication goes. The material used in pocket tees tends to be more durable than that of undershirts, and the pocket itself gives the shirt a bit of added strength. Choosing the right color and wash is important to achieving a casual yet polished look with the pocket tee.
Even among pocket tees, there are numerous styles available. Crew necklines are the most common, although v-neck pocket tees have gained in popularity in recent years. Solid colors are the typical style for casual wear, and also the most functional. Common colors include red, blue, black, white, heathered gray and navy blue. Of course any of these colors can be worn casually, but if you're using a pocket tee underneath a sport coat for a dressier look, it's best to stick with a darker color. Anything bolder will draw attention to your tee, not the outfit as a whole. If you want to wear a pocket tee in a bold color for a dressier occasion, try pairing it with a white or light-colored jacket for a tropical feel.
For a good selection of basic pocket tees, check out a major retailer that sells men's clothing. Wal-Mart, Target, Kmart and JCPenney will all have a respectable selection of tees to choose from, although the quality will not be as good as those found at more upscale department or clothing stores. J.Crew offers a nice selection of pocket tees (and styles without pockets) in a wide range of colors, including some that are hard to find (such as brown, sage, gunmetal grey, green, yellow and taupe). The cotton jersey material is soft and durable. The fit is also tailored, making them better for layering since there's less bulk. GAP has a similar pocket tee version at a less expensive price, but the color selection is limited to white, black, grey and navy.
Striped tees are another variation on the pocket tee, and a look that's currently very hot for guys. Bold, contrasting colors give the tee a bit more youthful edge, while more subtle neutrals are easier to dress up. This classic-fit striped pocket tee by Ralph Lauren is an excellent example of this style.
If you're into a certain designer, there's a good chance that you can find pocket tees among the offerings of that particular label. The designer touch can add a bit of flair to this decidedly casual look.