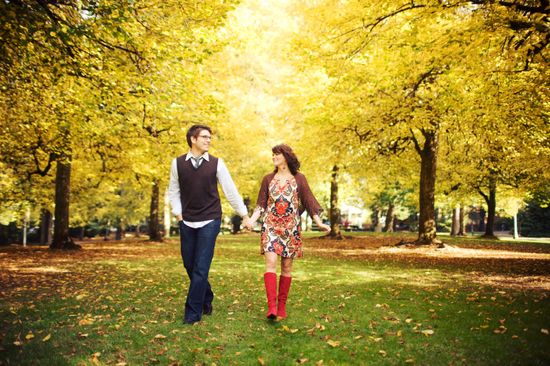 Fall is arguably the most beautiful season of the year. The jewel tones of the trees create a welcoming landscape that warms the heart. The harvest season tends to bring joy to people as they remember to be thankful for their many blessings. The beginning of getting ready for Christmas, the most exciting time of the year, is also a part of what makes fall such an enjoyable season. However, the weather is starting to turn colder and winter is just around the corner. It is often harder and harder to predict how the next day's weather will be and therefore choosing clothes is difficult. Yet, you can make some great choices that will easily carry you through any fall day.
Early fall often has some days of Indian Summer, where the temperature is still as warm as real summer. However, the nights will typically quickly remind you that it is indeed fall. Therefore if you are enjoying a warm early fall, it is nonetheless important to keep a light jacket or sweater on hand for the evening. If you are wearing shorts and plan to get home late, a pair of jeans to change into is a good idea also. The good part of Indian summer is that you get to wear your summer clothes a little longer and more slowly move into fall fashions. For those who live in areas that are very hot, often fall doesn't come fast enough and they will wear fall clothes before the weather is truly cool enough. This is workable if you remember to layer so that you can remove some clothes if you are too warm.
Regular fall clothes are just simply those items that you might continue to wear in the winter but with heavier outerwear. Sweaters, jeans, long pants, skirts with tights, long-sleeved T-shirts, button-down shirts with a T-shirt underneath and blazers are all typical fall clothes. Heavier weight fabrics are also a hallmark of the season, as the skirts and pants you wear in the summer will be much lighter than your fall ones. This season also is often marked by wearing socks. In summer, socks tend to collect dust in the drawer as we enjoy sandals and flip flops. Fall brings closed shoes and matching socks. For business wear, it means back to hose or tights.
If you tend to get a little down as the fall wears on, opt for clothing in the warm, rich tones of autumn. Golds, burgundies, browns and oranges are warm, happy colors that will elevate your mood. Often fall fashions are found predominantly in these colors. Explore the colors that are popular this fall and choose the ones that make you smile or relax.
Get your fall wardrobe out of the back of your closet and update it with a few choice items to make it fashionable again. Take joy in familiar textures, substantial clothes and the feel of more fashionable garments. Enjoy fall and all the wonderful styles that make it a fun season.