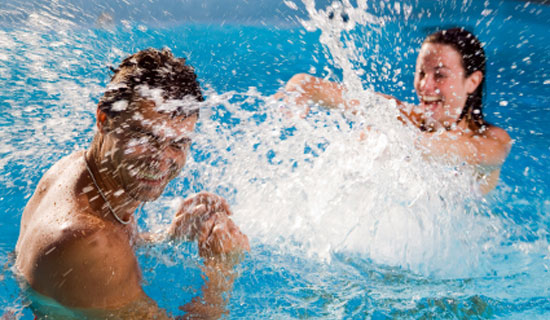 If you are heading out to a pool party you will find that it is quite easy to find the right outfit. Pool parties are intended to be fun, relaxing occasions filled with unstructured activity. You are meant to just enjoy good weather, being outside and socializing. Don't worry about finding the perfect outfit to wear to a pool party, because pretty much anything goes. Whether you opt for shorts and a tee, something dressier or simply your swimsuit and a cover up, you will fit right in, because pool parties are the ultimate in casual party atmospheres.
Be sure to bring a cover-up to wear while at the pool party. You will inevitably not want to spend all your time in the pool and it is usually more appropriate to don a cover-up while dining or if you need to go inside to a bathroom. On a personal note, you may feel more comfortable when talking with others if you are wearing a cover-up, as opposed to a leave-nothing-to-the-imagination bathing suit. In addition, if you are planning to sunbathe, a light colored cover-up that provides some sun protection is a great option for when you've had enough of the sun's rays.
Depending on what you typically wear, you may want to opt for a fun, flirty sundress as the perfect outfit for a pool party. You can either wear your bathing suit beneath it or bring it along in a beach bag, so you can change when you want to go swimming or sunbathing. If you prefer a more sporty or casual look, a T-shirt and shorts is the way to go. You can choose any type of T-shirt from a simple elegant one of high quality fabric or a cotton tee with a snappy remark on it. Whatever your choice, you can't go wrong with a T-shirt at a pool party. In fact, you can even bring an extra one along in a size larger than usual to use as a cover-up.
Footwear is an important part of what to wear to a pool party. Good advice on poolside footwear is flip flops or other easy to put on sandals which have good grips on the soles. Shoes which have smooth soles will easily cause falls when combined with a wet deck. Avoid closed shoes because your feet will get too warm and you may ruin good shoes if you get them wet from the pool. Easy to slip on shoes are good choices because you are more likely to wear them the entire time you are poolside. This will protect you from exposure to germs.
No matter how you choose to outfit yourself, there are some important things to bring to a pool party. Make sure you have your bathing suit and a change of clothing. Bring a towel or two. Wear and bring along a high-number sunscreen and clothes that will provide a barrier to the sun when you are finished sunbathing. Wear a hat or sunglasses to protect your eyes.   Regardless of what you wear to a pool party, remember to relax and have fun. It's summertime!