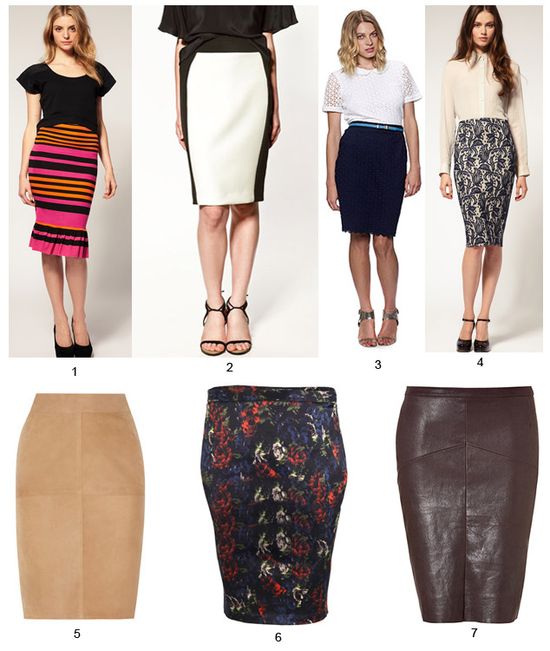 The pencil skirt is a garment that has gained much popularity over the past few years and is really a piece that should be a part of every woman's wardrobe. Pencil skirts are great because they hug and flatter the natural curves of the hips and make you look your best no matter what the shape of your hips are. The garment can be worn to the office, or dressed down and worn on an everyday basis, or you can dress it up and wear it to a cocktail party. However, just as with any other clothing in your closet, this versatile piece of clothing can look unappealing if worn with the wrong outfit.
Because the pencil skirt is so versatile it is extremely easy to mix and match different articles of clothing that you now have in your closet to make for a great look. Here are some examples:
Tops: If you are dressing to go to the office then choose a blouse with a professional look. Long sleeved blouses that have a collar are perfect for the office environment and look great when tucked in. When you are simply going out and about go with a colorless blouse that you do not tuck in. Boat necks and cowl-necks look great and both tight fitting or loose fitting will work and your choice should be based on what you feel the most comfortable in.
Shoes: When it comes to footwear and pencil skirt the topic is really wide open. If you are wearing your pencil skirt to work then you can pair it with a nice sensible pair of heel that will compliment the entire outfit you are wearing. When you are going out with your pencil skirt on you can go with sandal heels or a low cut ankle boot for a more risqué look. You can even go for an ultra-casual look and wear a pair of ballerina flats which will not only look great but will allow your feet maximum comfort.
Belts: Wearing a belt with your pencil skirt is a great way to help define your waist. You will want to go with a skinny belt over a wider belt as this will help to define the precise lines of the pencil skirt. When choosing the color of your belt, consider the occasion. Go with a neutral colored belt when going to the office and bright and fun colors when out and about. You can also give your legs the illusion of being longer by wearing your belt up higher on the pencil skirt, or make them seem short by wearing it down on the pencil skirt.
Colors: Again this will depend on the occasion. Black is very versatile and can usually be worn anywhere. Neutral colors look great for the office and brighter colors are usually reserved for the more casual look.
Pencil skirts can be worn in a number of different ways all designed to make women look great. Being sure to pair your pencil skirt with the appropriate top and shoes will have you too looking fantastic.