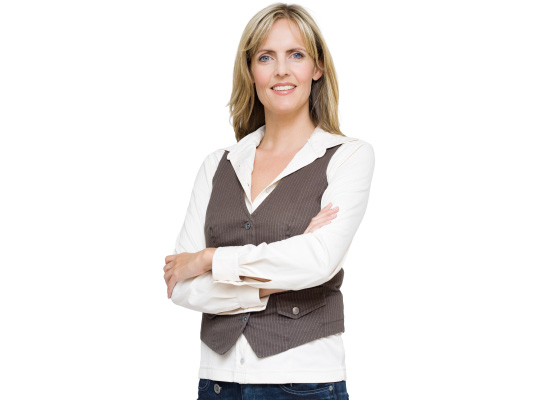 Americans call them vests, the British call them waistcoats, but however you refer to them, they're a recurring staple of the fashion world. Available in every fabric and cut imaginable, the vest is one of those wonderfully versatile wardrobe pieces that can add the crowning touch to a huge range of outfits. But before adding this fashion trick to your wardrobe, you must spend some time to find the vest that is right for your body. It needs to be long enough to reach your waist (otherwise your torso will appear too short and your lower half too long), but not so long that your waist disappears. Even more importantly, it can't be too loose. A loose, floppy vest does absolutely nothing to flatter your figure, which is exactly the benefit of sporting the perfect waistcoat. Your body MUST look proportional.
Vests used to be worn only under suits, but that certainly isn't the case these days. Current fashion trends use vests quite casually, over dresses, tees and even tanks. Here are a few ideas for what to wear with your favorite vest.
Pants or jeans. Wearing only a vest with pants or jeans can look fabulous! The trick is to find a vest that fits you well, doesn't show too much cleavage and doesn't show your bra. Try a menswear-inspired vest with a pair of tailored dark pants for an evening out, or go for a more relaxed look by pairing a cotton vest with your favorite jeans.
A tank top. Pairing a vest with a tank top may sound easy breezy, but it does take a bit of know-how to make this look truly stunning. When worn with a tank top, the vest should be the main attraction, so make sure that only a minimal amount of the tank peeks out from the top of the vest. It's fine to let the bottom of the tank top show, but the armholes of the vest should not be cut so low that the tank top is exposed from the sides. And definitely don't let your tank top straps show, or the chic factor will be lost. When properly worn, a vest and tank top can work in perfect synchronicity to showcase toned arms, emphasize a nice chest and minimize the waist.
A dress. Vests are such a feminine, fun touch to add to dresses. A cute denim vest paired with a pretty floral sundress adds just the right amount of structure. Vests, especially those that are knitted or woven, can be used to achieve the Bohemian feel that is currently so trendy. For a more formal look that can be worn at the office, start with a knee-length dress and add a silk or knit vest with a small belt over all.
A shirt or blouse. Slip a solid-colored vest over a blouse or shirt, and you've added instant interest to your outfit. Button it up to make the most of its waist-cinching properties, or leave it open for a more casual feel. You can go with a long-sleeved or short-sleeved shirt, but be careful that the vest is not too short as to throw your body out of proportion.