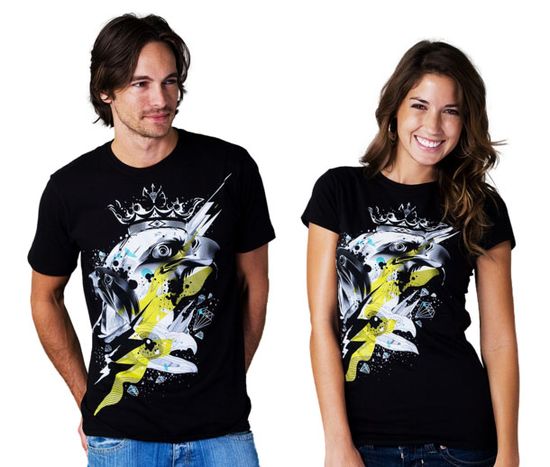 Creative T-Shirt Designing
People like to show of their creative side, and they like to make statements.  One of the best ways to show your personality at first glance is to wear interesting and unique clothing.  As young girls discovered during the fluorescent clothing fad of the 1980s, the only rules that apply to fashion are the rules that the people wearing the clothing make.  This holds true especially in the t-shirt customization field.  If you are interested in creating unique and cool-looking t-shirts, we have some excellent suggestions.
The hot thing right now is the color-changing, or morphing t-shirt.  These shirts are generally cotton t-shirts with an ironed-on design in a single contrasting color.  However, the surprise is that when you walk into sunlight the design becomes a menagerie of colors and changes the look entirely.  This is an interesting way to go from business casual to office picnic fun!  The shirts are particularly common with tourists in beach areas who want a nice shirt to take home, and one that draws some attention.  The technology for producing these shirts is relatively new, however photosensitive inks have been around for decades.
Airbrushing is another popular t-shirt personalization option that many people are using to show off their favorite things, their grandchildren and even their new car.  Airbrushing is an artistic method that takes a great deal of talent and practice to perfect. A good airbrush t-shirt designer can generally take any image or photograph and transform a t-shirt into an excellent replica of the original.  There are unlimited design opportunities and possibilities with airbrushing, thus it is really no surprise that kiosks are popping up at tourist areas and shopping malls across the world.
Glow in the dark t-shirts have been popular among children and adults for years.  The type of glow in the dark shirt is what has changed.  No longer do the designs you see glow on their own. Now, designers have placed glow in the dark words and designs on the shirt that are not visible during the light of day.  What a different look this provides, and what a surprise some people get when they realize what their shirt is really saying when the lights are low.  This type of shirt makes a great gag gift, or a neat gift for that young nephew who has every toy he can ever possibly play with.
During the 1990s, shirts decorated with rhinestones, glitter and sequins gained popularity. There are a number of ways in which these items can be attached to the shirt they are decorating. Rhinestones can be glued, or a better option is to actually use a grommet of sorts with prongs that hold the stone in place and prevent it from falling off in the laundry or while being worn.  Because these shirts can be fairly expensive t-shirt options, no one wants to see their shirt fall apart.  Sequins are generally sewn onto the shirt, either by hand or machine. And glitter is generally glued to the material with special fabric glue.
For those with young children who would like to help with the creation of their own custom t-shirts there is the option to print an iron transfer in black and white and to allow the child to use fabric markers and paints to customize their own t-shirt.  Another way to involve even the youngest family members in to the t-shirt creation process is to make shirts with the child's handprints or footprints placed on the fabric.  There are a variety of ways to do this, however the most common is to simply stamp the child's hand onto the shirt after dipping it in thick fabric paint.
There are so many different methods available for creating unique and creative decorated t-shirts that there really is not reason to ever wear a plain shirt again.