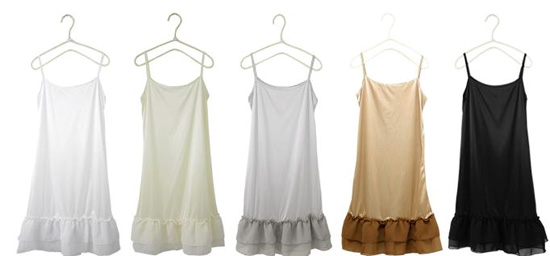 Do you know when it is proper to wear a slip? Oftentimes, women wear dresses and skirts without a special undergarment known as a slip. Slips are worn to prevent lightweight material from clinging to the skin and to help garments lay properly against the body.
Slips come in full-length and half-length sizes and in many different colors such as white or nude. They are generally made of a lightweight material, such as cotton or silk, and can be used many different articles of clothing. You can even wear them in ankle-length sizes for more formal wear.
The reason so many women do not wear slips is due to the fact that they seem "old-fashioned" and that many garments come with a lining that is built-in for coverage.
If you are not sure when you should wear a slip, just follow these simple principles:
1.) Always under any lightweight material. Fabrics like linen are very transparent which requires the use of a slip. Likewise, clingy materials like rayon can "ride up" and produce static which always calls for a nice-fitting slip. If you need to wear a slip, just try on the clothing with and then without the slip, and then compare the fit of your clothing between the two. Stand in front of a full-length mirror in good lighting to see if any undergarments show through the clothing. If so, then wear a slip.
2.) Always with delicate and flimsy outfits. Evening gowns and cocktails dresses generally require a slip to fit properly. The slip will prevent any fabric from riding up, clinging, or wrinkling with wear.  Because slips come in a variety of shapes, materials, and sizes, you must ensure that the slip's shape matches that of the dress or skirt you will be wearing. You do not want the slip showing through in conspicuous places such as a slit or under the arms. Also, remember to coordinate the slip and garment by wearing a neutral colored slip or one that matches the color of the outfit you will be wearing.
3.) Always under fabric that "sticks" to the skin. Many dresses today are made of different fabric blends that tend to cling to the skin and create static. Jersey cotton and spandex blend fabrics will need a slip to prevent that embarrassing cling. Wearing a slip will keep fabric smooth so it will not bunch together while you walk or when you sit down. The best slip materials for this dilemma are silk or cotton and they are the most common. Just try out the slip under your outfit before you wear it.
4.) Always choose the right slip for your particular outfit. The key is to not have the slip show through your garments. So, never wear a lacy slip under a thin blouse and always keep the slip shorter than your dress or skirt. Since many articles of clothing come with built-in layers that work like slips, you won't have to make sure that you have the proper slip for every article of clothing. But you must always check yourself in front of a mirror before going out to prevent any coverage issues.
Although slips are sometimes considered a thing of the past for many women, you can always guarantee that you are dressed and look your best when a slip is under your dress!