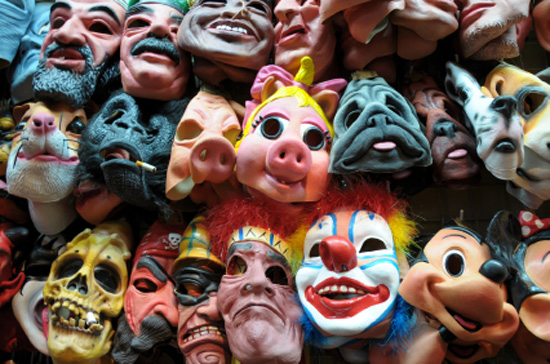 Halloween is a really great chance for you to step out of your usual boundaries and become something you're not, which is why people of all ages love this strange but fun holiday. Instead of waiting until the day-of to pick up some cheap, plastic get-up from the costume aisle, plan ahead for a Halloween costume that will leave everyone terrified, charmed, screaming with laughter, or even turned on — all depending on the crowd and the reaction you're going for.
•    Set aside some time to plan and shop. Don't wait until the last minute if you want to have a costume that will wow on the big night. If you are creating a couples costume, you will want to coordinate the planning with your partner also.
•    Do some research. Check out Halloween costume websites to see what's available and check out the most popular styles. You might just find the perfect costume for you, or get a really great idea for a unique design of your own creation.
•    Think about what interests you, such as hobbies, favorite celebrities, favorite characters from the movies or television, or famous historical figures. Choose a character that you are familiar with so you can imitate that individual's dress, mannerisms and speech. You might also consider characters with whom you share a physical resemblance, such as a bald head or pregnant belly.
•    Determine how much money you want to invest in your costume. If you have an unlimited budget, a company specializing in costume rentals may be the place to get the outfit that will blow everyone away at the party.
•    If renting is too expensive an option, consider a visit to your local thrift store to search for uniforms, suits, out-of-date dress clothes and accessories. With a little imagination, your own closet may even turn into a costume gold mine. Consider what you could repurpose or alter with scissors and tape.

•    Keep in mind the type of event you will be attending and dress appropriately. A horrifying, gory mask will not be appropriate for a children's event, for example, and neither will your super-sexy French maid costume.
•    Weather can be a major factor when selecting a costume. If you will be wearing the ensemble outdoors, be careful to choose clothing that is warm enough, depending on your location. Many locales will be experiencing winter weather at this time of the year.

•    Pay attention to the details. Small touches including hair, makeup and accessories can make or break your costume. What's a pirate without the eye patch and peg leg, or Dorothy without Toto in a basket?
With a little time and effort, you can come up with an awesome costume that will make heads turn on Halloween. Plan ahead, get creative and have fun!