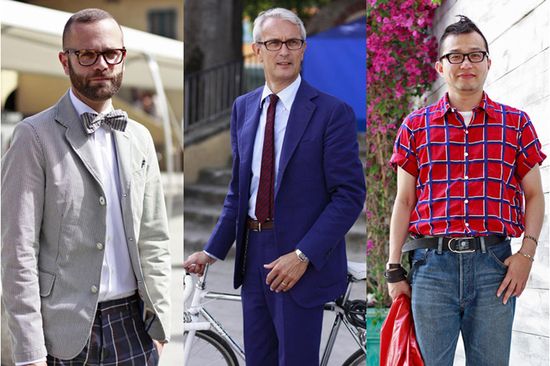 Dressing like a Geek Means Making Your Own History
Geeks are unfortunate individuals. They have a lot to offer. However, sadly they don't have a clue about much of anything. Social gatherings are often a mess as geeks normally choose to discuss obscure topics and the latest events on a show called Star Trek. Geeks are like milder, less dramatic forms of a car crash. You don't want to watch yet you find yourself slowing down to get a closer look.
Sometimes geeks are hard to spot. They sneak up on you. They look like a normal, well adjusted person. Yet you don't learn until half through your conversation that you're talking to a geek.
Sometimes you have to take a closer look to see the scotch tape holding their glasses together, or the pocket protector serving an oh-so-important function, or the fanny pack that's neatly concealed beneath their jacket. Yes, sometimes it's difficult to spot a geek. Other times, it can be very hard to miss them.
Many geeks have the wherewithal to keep their geeky-ness under wraps. Others have so much geek in them that it simply must manifest through their wardrobe. When it comes to fashion, geeks have a style all their own. If you've ever seen a flamboyant geek before, you know that they have a signature style that is unmistakably bad.
For a group of people so often fascinated with the future, they seem to live in the past when it comes to their wardrobes. For all of their studying and analyzing, they don't have a clue as to what the current trends are in clothing. Instead they keep wearing the same old stuff, year after year, long after it's gone out of style.
It's not uncommon to see a geek wearing a pair of pleated, high-wasted trousers, or a souvenir t-shirt they got at Yosemite National Park in 1988, or a pair of Keds from their junior year of high school. Geeks just can't be bothered with fashion. They're too busy saving the world.
However, they make it easy for the rest of us to dress like them. Dressing like a geek is easier than flipping up a pair of clip on sunglasses. All you need is a little bit of creativity, a sense of humor, and the help of a great custom t-shirt printing service.
When you design your own geeky t-shirts, it's easier to look like the real thing. It's hard to recreate a lifetime of collecting dorky clothing items. Sometimes, you have to backtrack if you want to dress like a genuine geek. However, you can look like you've been a geek all of your life when you can custom print t-shirts that only a geek could love.
Imagine the geekiest things in the whole world and create a t-shirt design. You t-shirts will be ready in no time and before you know it, you can have a band of geek look-a-likes proudly wearing your t-shirts around town. Fashion tends to repeat itself. Who says the 'geek' look won't become the rage?